USA Enrollment Tops Record 16,000 Students; Big Increases in Graduate Students and First-Time Freshmen Highlight Report
---
Posted on August 25, 2014
Jeb Schrenk
---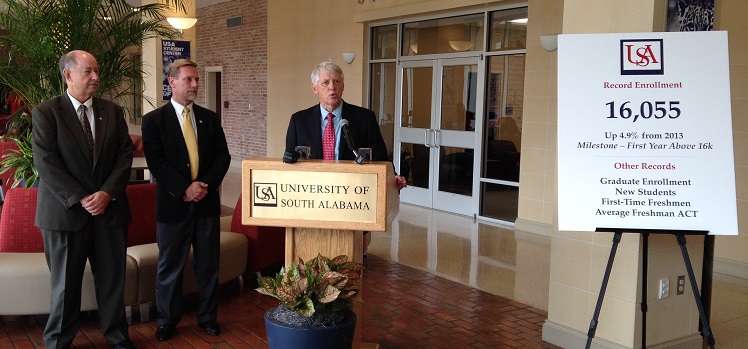 The University of South Alabama set a record enrollment with more than 16,000 students, an increase of 4.9 percent. At an Aug. 25 news conference to announce the milestone, from left, are Dr. David Johnson, senior vice president for academic affairs; Christopher Lynch, interim director of enrollment services; and President Dr. Tony G. Waldrop.
---
The University of South Alabama has reached another milestone, with record enrollment surpassing 16,000 students for the 2014 fall semester. Records were set in several categories such as new student enrollment, first-time freshman enrollment, graduate student enrollment, African-American enrollment and average freshman ACT score.
In all, 16,055 students are enrolled for classes, a 4.9 percent increase from the previous year. This includes a 16 percent increase in graduate students.
"The increase in student enrollment is a reaffirmation of the quality and accessibility of the University of South Alabama," said President Dr. Tony G. Waldrop. "These types of numbers do not happen by accident. It's through the hard work of faculty and staff and the support of the community that we are able to continue to grow the University."
At a Monday morning news conference, Waldrop said he expects the University to continue to add students through managed growth. "We believe in growth with quality," he said.
This fall's increase adds 744 students to the 15,311 enrolled this time last year.
"That's one of the largest increases in the history of the institution," said Dr. David Johnson, senior vice president for academic affairs. "This is an indication of the strength of our academic programs and a continued increase in demand for undergraduate and graduate offerings at USA."
In addition to total student enrollment, there were records this year in:
First-time freshmen: 2,073

Graduate students: 4,023

New graduate students: 1,107

New students: 4,457

Medical students: 553

African-American students: 3,285

Average ACT for first-time freshmen: 22.9 (tied with 2013)
Enrollment for freshmen with ACT scores 30 or greater rose 23.3 percent, easily outpacing the increase in new freshmen, suggesting USA continues to see strong demand from top academic students. There were 143 students in that category, 273 with an ACT score of 28 and above, 464 with an ACT score of 26 and above, and 765 with an ACT score of 24 and above.
Graduate student gains were led by double-digit percentage increases in the College of Engineering (67.3 percent), School of Computing (37.1 percent), College of Nursing (19.3 percent), College of Education (11 percent), and the interdisciplinary Graduate School (18 percent). USA's College of Engineering and School of Computing also experienced double-digit percentage gains in undergraduate student enrollment, at 13.1 percent and 12.6 percent, respectively.
---