Services Set for Dr. Frederick N. Meyer, chair of orthopaedic surgery
---
Posted on November 17, 2014
Ashley Givens
---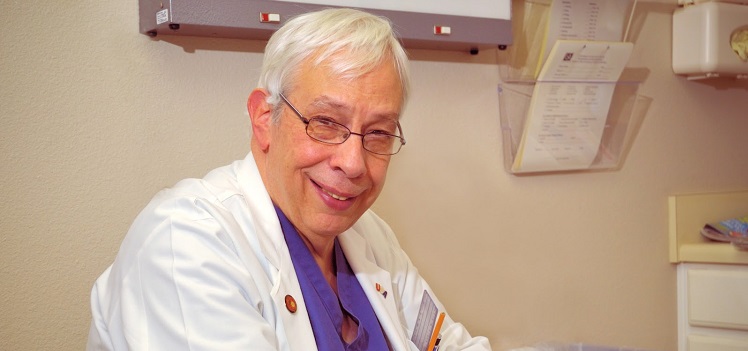 Dr. Frederick N. Meyer was a professor and chair of orthopaedic surgery at the University of South Alabama.
---
Frederick N. Meyer, M.D., a native of Chicago, Ill., and a resident of Mobile, Ala., passed away unexpectedly on Nov. 14, 2014.
Dr. Meyer earned his undergraduate degree in biology and chemistry from Westminster College in Salt Lake City and his medical degree from State University of Iowa in Iowa City, Iowa. He completed a surgical internship at Latter Day Saints Hospital in Salt Lake City and his residency in orthopaedic surgery at University of Utah in Salt Lake City. To further his training, Dr. Meyer completed a Joseph Boyes Hand Surgery Fellowship in Los Angeles.
At the time of his death, Dr. Meyer served as professor and chair of the University of South Alabama department of orthopaedic surgery. He also served as program director for the orthopaedic surgery residency training program. Prior to his tenure at USA Dr. Meyer held teaching and leadership positions in orthopaedic surgery residency and fellowship training programs in Denver, Colo. and Phoenix, Ariz. He was well-known and highly respected by his peers for his skill as an orthopaedic hand surgeon. He earned public recognition for his academic expertise and orthopaedic knowledge, as well as his surgical and teaching skills. He also occupied leadership positions in many national orthopaedic academic societies and served as a reviewer for a variety of professional journals.
As a humanitarian, Dr. Meyer led by example. During his mission travels to Ecuador, he and the resident who accompanied him provided orthopaedic care to hundreds of poor and disadvantaged patients over the years. His desire to alleviate suffering and improve the quality of life for his fellow man was always at the forefront of his medical practice.
In addition to his other accomplishments, Dr. Meyer proudly served in both the U.S. Marine Corps and the U.S. Navy and was the recipient of the Naval Commendation Medal for Outstanding Service. He held a very special place in his heart for the veteran and active duty patients he cared for from every branch of military service.
Dr. Meyer's family would like to acknowledge each resident currently enrolled in the USA orthopaedic surgery residency training program at USA. Please know that Dr. Meyer took a special interest and pride in the achievement of the goals you have set for yourselves and he expected no less than the best from each of you: Russell Goode, M.D.; Aaron Mates, M.D.; John Tullos, M.D.; Ryan Mitchell, M.D.; Brandon Taylor, M.D.; Grant Zarzour, MD; Jess Mullins, M.D.; Brandon Scott, M.D.; Patrick Smith, M.D.; Stephen White, M.D.; Nav Bajwa, M.D.; Patrick Barousse, M.D; Alexander McDonnell, M.D.; Joseph Shung, M.D. and Stephanie Stopka, M.D.
Although Dr. Meyer experienced a busy professional life, he was an animal lover, a model train enthusiast and collector, and also greatly enjoyed movies and home theatre. For those who knew Dr. Meyer best, it was universally accepted that his love and dedication to his work were his real hobby and he could not imagine his life apart from orthopaedic surgery. His association with the USA department of orthopaedics and the residency training program was his passion and the success of both was truly his delight. Dr. Meyer always took the time to learn as much about the orthopaedic surgery residents as he could. When residents graduated from his program, they took with them Dr. Meyer's dedication for the well-being of every patient along with the knowledge that he was only a phone call away for advice or support. He will be sorely missed by current and former residents as well as colleagues and associates at every level.
Dr. Meyer was preceded in death by his parents Ralph and Harriet Meyer, sister Catherine Meyer Condas and daughter Jennifer Meyer. He is survived by his beloved wife, Dr. Melanie Landry Meyer; brothers Steven Meyer and Russell Meyer; sons Torrance Meyer, Jared Meyer, and Michael Perry; and daughter, Dana Marshall. In addition, Dr. Meyer is survived by cherished family members in Louisiana who loved him dearly and his ashes will be interred in his adopted home state at a later date.
Mass of Christian burial will be celebrated at Our Savior Catholic Church located at 1801 Cody Road, Mobile, Ala. at 10 a.m. on Nov. 24, 2014. From 12 noon to 2 p.m. friends and family are invited for visitation at the University of South Alabama Globe Grand Lobby at the USA Mitchell Center, 5950 Old Shell Road, Mobile, Ala.
The family suggests memorial contributions to the Orthopaedic Residents' Fund, LLC, C/O Rhonda B. Smith, 3421 Medical Park Drive, Building #2, Mobile, Ala. 36693 or the Mobile SPCA, 620 Zeigler Circle, W., Mobile, Ala. 36608.
---