USA Ends 2014 Employee United Way Campaign with Record Contributions
---
Posted on December 12, 2014
Alice Jackson
---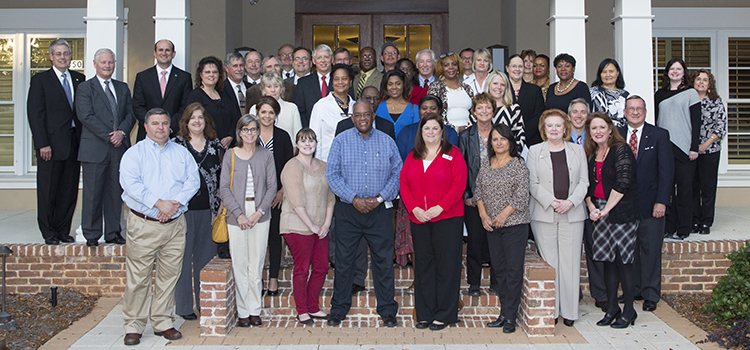 Employee volunteers in USA's 2014 United Way Campaign celebrate the successful donation drive during a reception held at the Faculty Club.
---
One-half of the University's employees have pledged more than $267,000 to the 2014 USA Employee Campaign for the United Way of Southwest Alabama, exceeding the campaign's goal by more than $1,000.
The final total was released by campaign co-chairs Lynne Chronister, vice president for research, and Dr. Ron Franks, vice president for health sciences, during a wrap-up reception held recently at the Faculty Club. The reception was attended by employee volunteers, who worked across the main campus and throughout the USA Health System to encourage employee participation. Those participants were given a certificate of appreciation for their involvement.
On average, each of the 2,474 participating employees pledged $106. The total donations exceeded the 2013 campaign totals by $5,062.
The campaign also included USA retirees, who contributed $6,822, a 60 percent increase over 2013 retiree results.
The United Way of Southwest Alabama assists residents of Mobile, Washington and Clarke Counties through education as well as providing essentials, such as food and clothing, along with health needs and financial stability for those in need.
---