University President Joins Mobile Mayor, Other Institutions, to Promote Community Service
---
Posted on August 13, 2014
Bob Lowry
---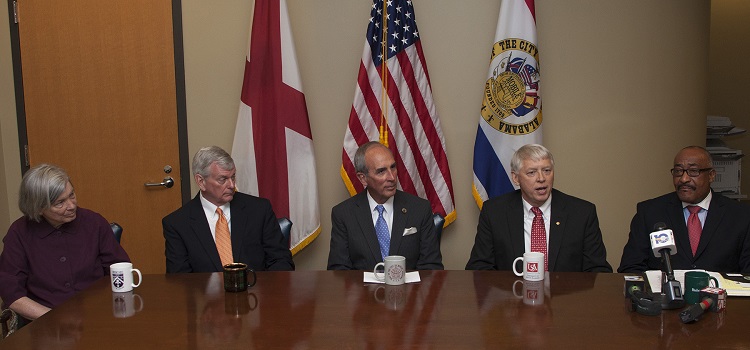 University President Tony G. Waldrop speaks during Mayor Sandy Stimpson's news conference on local universities teaming up with the City of Mobile to promote service learning. From left, Samantha Church, associate vice president for advancement, Spring Hill College; Dr. Mark Foley, president, University of Mobile; Stimpson; Waldrop; and Dr. James Lowe, president, Bishop State Community College.
---
University of South Alabama President Tony G. Waldrop this morning joined Mobile Mayor Sandy Stimpson and three other Mobile institutions of higher learning to announce the exploration of a community-wide service initiative. As proposed by the mayor, the event would involve the City of Mobile, USA, the University of Mobile, Spring Hill College and Bishop State Community College.
"Our students and employees actively give to others, and in doing so have learned much about our community," said Waldrop. "It's important to give back because the community gives us so much."
Last year, more than 4,200 USA students contributed nearly 60,000 service-learning and civic engagement hours, coordinated through the University's Center for Academic Service-Learning and Civic Engagement. In April, hundreds of USA employees and alumni throughout the world participated in the first "JaguarsCare" Day of Service. Also, USA students in health care fields are active volunteers with clinics that care for underserved populations in Mobile.
"We want to help the universities identify community needs and opportunities," said Stimpson. Examples of community needs mentioned by the mayor included upkeep of city parks and providing a variety of assistance at community centers.
---