2014 Employee Annual Fund Kicks Off
---
Posted on February 26, 2014
Jeb Schrenk
---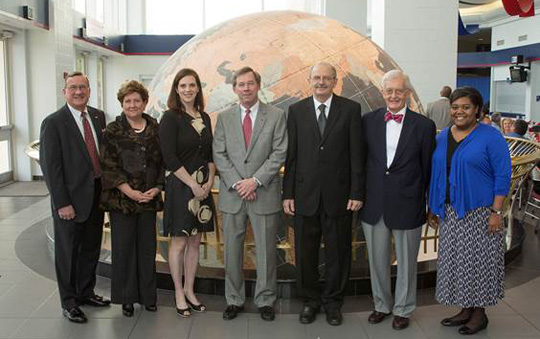 The University of South Alabama kicked off its 2014 Employee Annual Fund on Feb. 25, opening a campaign that brings together employees in support of the University.


Department representatives will distribute pledge cards that will allow employees to designate a gift amount and the college or division that will receive the gift. Gifts to endowments will be matched dollar-for-dollar.

"During the past decade, the USA Employee Annual Fund Campaign has grown stronger each year in terms of participation and the generosity of its donors and surpasses most across the country in terms of participation and funds raised," said Dr. Joseph F. Busta, Jr., vice president for development and alumni relations. "I am confident this year will be no different, and that's because of the dedication of our employees and their support of the University's mission of teaching, research, service and health care."

Dr. Laurie Owen, associate director of basic and translational sciences at the Mitchell Cancer Institute, and Dr. Andrzej Wierzbicki, dean of the College of Arts and Sciences, are the co-chairs of the 2014 Annual Fund. Dr. Paul Helminger, a longtime, former physics professor at USA, will represent University retirees.

Gifts are tax deductible and can be made in one payment or be deducted each pay period. The deadline to return pledge cards is April 8, and the campaign is scheduled to officially end April 30.
Last year's effort raised $497,000. The Annual Fund receives widespread support, with many departments receiving 100 percent participation.

"I participate because it is the right thing to do and because the return on investment is immeasurable," said Dr. Mohan Menon, chair of marketing in the Mitchell College of Business. "Giving to USA expands possibilities and the ripple effects throughout campus are impressive."

"I give to the Employee Annual Fund for the quality of education I received and to help the University to continue to grow and make a difference in the lives of our students and community," said Dr. Henrietta Brown, an assistant professor of adult health nursing.

For more information, contact Tracy Coleman, associate director of strategic annual campaigns, attcoleman@southalabama.edu or (251) 460-6574.
---