USA Board of Trustees Announces Major Scholarship; Support for Top Incoming Freshman
---
Posted on June 6, 2014
Jeb Schrenk
---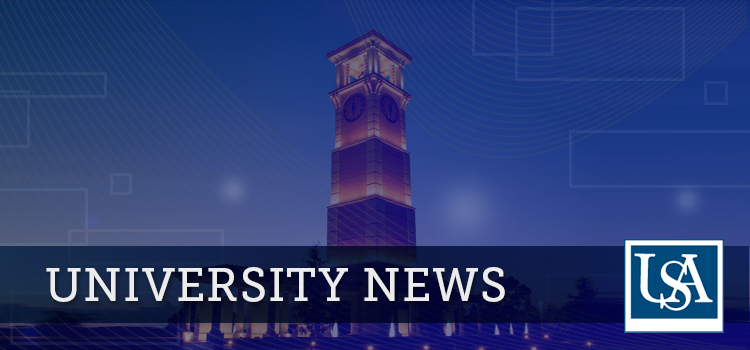 ---
The University of South Alabama Board of Trustees announced today the creation of the USA Board of Trustees Endowed Scholarship Fund, which will provide a scholarship to each incoming freshman class's top academic performer.

USA Board of Trustees Scholars would receive support ranging from about $14,000 to $17,000 annually, depending on residency and coursework. USA plans to award the first scholarship this fall.

"The goal for this scholarship is to recognize the most academically talented student in each incoming freshman class," said Dr. Steven Furr, chairman of the Board of Trustees. "This scholarship will carry the highest honor of any scholarship available, which is a reflection of the commitment Board members have for USA. It is both an honor and a privilege to serve the University. We wanted to show our gratitude by making this investment."

Current and former trustees already have committed more than $125,000. All gifts will be matched through the Mitchell-Moulton Scholarship Initiative.

Founding members of the scholarship fund are: W.M. "Monty" Collins, E. Thomas Corcoran, Furr, Capt. Robert D. "Ron" Jenkins III, Donald L. Langham, Bettye R. Maye, Arlene and the late Mayer Mitchell, Bryant Mixon, James P. Nix, John M. Peek, James H. Shumock, Kenneth O. Simon, William S. "Sandy" Stimpson, Dr. Steven H. Stokes, Michael P. Windom and James A. Yance.

"The creation of the USA Board of Trustees Endowed Scholarship Fund is an outstanding development that will allow us to recognize the very best incoming student in each year's freshman class," said Dr. David Johnson, senior vice president for academic affairs. "I am grateful for this tremendous show of support from our Trustees. It shows the value they place on academic excellence and their commitment to the University and to our students."

Once the program is completely phased in, there will be four USA Board of Trustees Scholars at any one time, representing each class of undergraduate students. The USA Board of Trustees Scholars will be recognized at the Board meeting following the selection of the scholar.

The selection will be based on ACT/SAT score, and, if needed, GPA on a 4.0 scale followed by rigor of high school coursework.

The scholarship will serve as a supplement to any other scholarships awarded, and, if total scholarships exceed the cost of tuition, may be used for study abroad, research or other programs that enhance a student's education.

"Through the USA Board of Trustees Endowed Scholarship Fund, the University will be able to give a greater financial incentive to attract top academic performers to USA," said Christopher Lynch, interim director of enrollment services. "This continues an expansion of scholarships at USA that benefits our students and their families and, through support of higher education, the greater Mobile community."

For more information about the USA Board of Trustees Endowed Scholarship Fund, please call the Admissions Office at (251) 460-6141 or email admiss@southalabama.edu.
---