Abraham A. Mitchell Cancer Research Fund Award Winners Announced
---
Posted on April 9, 2014
Jeb Schrenk
---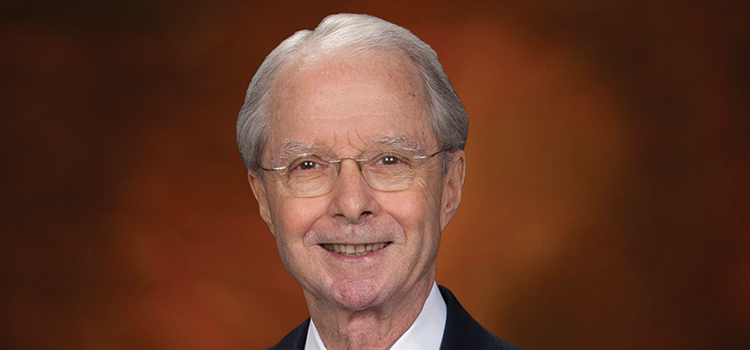 Abraham A. Mitchell
---
The University of South Alabama has announced more than $300,000 in awards from the Abraham A. Mitchell Cancer Research Fund, which was created to advance cancer-related research across disciplines and departments.
The awards mark the first installment of grants from the fund, made possible by Mobile philanthropist and longtime USA supporter Abraham "Abe" Mitchell.
Six projects were chosen by peer review. Individually, the projects seek to:
Improve endoscopic imaging and colonoscopy outcomes.
Evolve the study of biochemistry by creating the ability to view cellular function in living
animals.
Develop a sunscreen that both protects the skin from harmful rays and heals damaged
cells.
Block the spread of melanoma to lymph nodes by restricting a certain protein in the body.
Pursue the development of new antitumor drugs for breast cancer.
Determine whether psychosocial interventions, including meditation and yoga, have an
effect on cancer and psychosocial functioning.
Each award is for one year; recipients may be considered for an additional year of funding depending on a project's progress.
The goal of the Abraham A. Mitchell Cancer Research Fund is to support growth of interdisciplinary cancer-related or cancer-relevant research as part of USA's effort to receive a comprehensive cancer center designation by the National Cancer Institute in collaboration with the UAB Cancer Center.
"Through the generosity of Mr. Abe Mitchell, we now have resources to support initial experiments to help discover the root causes of cancer, and to develop better treatments to cure this deadly disease," said Dr. Ronald D. Franks, USA vice president of health sciences and interim director of USA's Mitchell Cancer Institute. "Many of these initial experiments will lead to preliminary data which will allow the investigators to secure federal grant dollars. These federal grant dollars will in turn support further research into the prevention, early diagnosis, and treatment of cancer. Mr. Mitchell is providing the money to 'jump start' these discoveries."
"The Abraham A. Mitchell Cancer Research Fund provides critically needed resources to attract new investigators from a variety of disciplines into cancer-focused research and simultaneously drives cross-disciplinary research efforts," said Dr. Laurie Owen, associate director of basic and translational sciences at USA's Mitchell Cancer Institute. "We anticipate that this seed funding will broaden the portfolio of externally funded cancer-related grants across the USA campus and promote the development of multidisciplinary teams to combat this disease and improve the quality of life for our patients and their families."
A native Mobilian, Abraham Mitchell has been a longtime supporter of the University. The Mitchell Cancer Institute was named after the Mitchell family – Abe; his late brother, Mayer; and Mayer's wife, Arlene – and together the family has committed more than $93 million to USA.
"Like so many others, I have had good friends and family die of cancer," said Mitchell, whose brother lost a battle to cancer in 2007. "I believe it's important, then, to support the work being done by the University of South Alabama to search for cures and advance science. It is only through such research that we can improve the lives of cancer patients and ultimately reduce the number of those affected."
The projects and recipients are:
Real-Time Hyperspectral Imaging for Identification of Colon Cancer
Investigators: Dr. Silas Leavesley, assistant professor of chemical and biomolecular engineering; Dr. Thomas Rich, associate professor of pharmacology
Summary: Colonoscopies are performed by guiding an endoscope through the lower digestive tract. Using an endoscope, clinicians are able to view areas of possible cancerous growth and resect biopsy specimens for analysis. Drs. Leavesley and Rich are seeking to improve endoscopic imaging capabilities using an approach called hyperspectral imaging – filtering light before it reaches the camera over a series of wavelengths. The result is a multi-dimensional image that could allow physicians to better detect cancerous cells and improve the ability to remove cancerous tissues. This is possible because each type of tissue has a different spectral fingerprint, and cancerous tissues have different spectral fingerprints than surrounding tissues. In addition to developing the imaging hardware, USA researchers are creating software that renders the image data into a useful format for clinicians and physicians to interpret in real time during an endoscopic procedure.
Development of Transgenic Rat Models Expressing Real-Time CAMP Sensors
Investigators: Dr. Thomas Rich, associate professor of pharmacology; Dr. Silas Leavesley, assistant professor of chemical and biomolecular engineering
Summary: Historically, investigators have studied biochemistry in test tubes with either 100,000 or more cells or ground-up tissues. This has led to a tremendous understanding of some of the basic mechanisms of cellular function and the roles of certain signaling pathways in cell proliferation or cell death, which has helped in the development of cancer-fighting drugs. USA researchers aim to further evolve the knowledge of cell evolution by developing rat models that would allow scientists to study biochemistry in single cells in intact, living tissues and animals. The goal is to develop rat models that will express fluorescent indicators to visualize biochemical reactions using state of the art imaging techniques. The end result would be the ability to see alterations in signaling pathways that lead to cancer and monitor the effectiveness of drugs designed to inhibit these pathways.
Silver Nanoparticles for Skin Cancer Chemoprevention
Investigators: Dr. Srinivas Palanki, chair and professor of chemical and biomolecular engineering; Dr. Ajay Singh, assistant professor of oncological sciences at MCI
Summary: Ultraviolet B radiation is one of the strongest risk factors responsible for skin cancer. Traditional sunscreen lotions seek to block or reduce the amount of radiation the skin absorbs. USA chemical engineers and cancer biologists are developing a sunscreen with an added component that could actually repair a damaged cell's DNA. They are testing their hypothesis that trace amounts of silver – synthesized using aloe vera as a reducing agent – might have chemopreventative properties. If so, incorporating these nano particles in a sunscreen could help heal damaged cells when harmful radiation breaks through the lotion's protective barrier.
Blockage of Melanoma Metastasis to Lymph Nodes by Focal Adhesion Kinase Inhibition
Investigator: Dr. Steve Lim, assistant professor of biochemistry and molecular biology
Summary: Malignant melanoma, a skin cancer, typically metastasizes to the lymph nodes as a primary lesion before secondary metastasis occurs. So, preventing the cancer from reaching the lymph nodes would be an important step in localizing the cancer and keeping it from breaking off and spreading to other parts of the body. Dr. Lim is testing his hypothesis that high levels of a specific protein called VCAM-1 provides a homing place for melanoma, and reducing VCAM-1 expression through a pharmacological FAK inhibitor could keep melanoma from metastasizing to the lymph nodes.
Design, Synthesis and Testing of Novel Anti-Cancer Analogs of Norcantharidin that Exhibit Increased Potency and Selectivity Towards Serin/Threonine Protein-Phosphatase 5
Investigators: Dr. Andrzej Wierzbicki, dean of the College of Arts and Sciences and professor of chemistry; Dr. David Forbes, chair and professor of chemistry; Dr. Richard Honkanen, professor of biochemistry; Dr. Larry DeLucas, director of the Center for Biophysical Sciences and Engineering at the University of Alabama at Birmingham
Summary: The focus of the project led by Dr. Wierzbicki is to develop selective and potent inhibitors of a protein that is observed in high levels in an invasive ductal carcinoma form of breast cancer. To find new drug leads, more than 300,000 small molecules were previously tested, and several compounds were found with promising inhibitory activity. These lead-compounds will be used as a starting point for the design of antitumor drugs.
Evaluation of Mindfulness-Based Stress Reduction for MCI Patients
Investigator: Dr. Elise Labbé-Coldsmith, professor of psychology
Summary: Mindfulness-based stress reduction, a behavioral medicine practice that includes meditation, yoga and awareness of body and mind, is linked to reduced anxiety and stress and improved quality of life. But what effect might it have on cancer? There are few randomly controlled trials evaluating mindfulness-based stress reduction on cancer patients. With an increased need to provide comprehensive patient care to improve health outcomes, limit costs and increase patient satisfaction, Dr. Elise Labbé-Coldsmith will conduct a pilot study that will explore the effectiveness of a mindfulness-based stress reduction intervention in improving psychosocial and immune system functioning in patients undergoing chemotherapy regimens.
---