USA Research Team Releases Findings on West Virginia Chemical Spill
---
Posted on June 10, 2014
Jeb Schrenk
---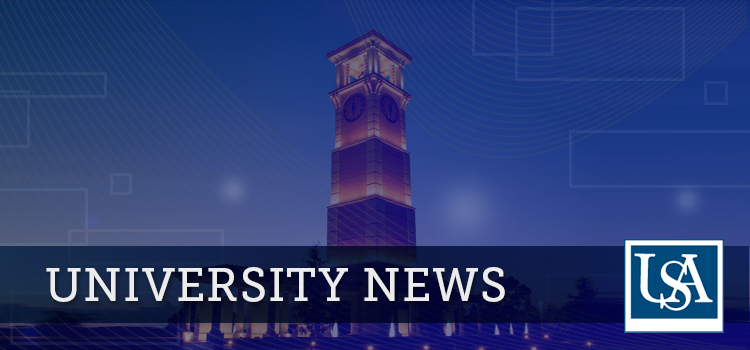 ---
A University of South Alabama research team released data this week suggesting mixed results from residents flushing plumbing systems following a January chemical spill in West Virginia that tainted residents' drinking water. The research results also show some limited chemical permeation by a type of residential plastic piping.

Dr. Andrew J. Whelton, assistant professor of environmental engineering, presented the findings June 9 at the American Water Works Association annual conference in Boston. The research focused on the aftermath of the January leak that affected 300,000 people around Charleston, W.Va.

"Crosslinked polyethylene pipes, which can be found in any local building supply store, are increasingly being used in U.S. residential and commercial plumbing systems. This material is nearly six times less expensive compared to traditional copper piping," Whelton said. "While plastic pipes have certain benefits, there is a lack of information involving their interaction with chemicals. The West Virginia incident demonstrated what happens when organizations involved in the response and recovery do not have data to predict chemical fate in plumbing systems."

Whelton and a team of USA researchers traveled to West Virginia after several thousand gallons of crude methylcyclohexanemethanol (MCHM), used in coal processing, leaked into the Elk River. The leak occurred 1.5 miles upstream of the regional water utility treatment plant's intake. The leak was discovered Jan. 9 after residents detected a licorice odor, leading to a temporary use ban and valid concerns about water safety. The USA researchers helped residents flush out their plumbing systems and began collecting data to try to determine what effect the contaminated water might have on plumbing systems and the water flowing through them. During their in-home sampling they found several homes contained crosslinked polyethylene water pipes in addition to other plastic and metal pipes.

The utility, West Virginia American Water, told residents to flush all hot water taps for 15 minutes, followed by cold water taps for 5 minutes, then all remaining faucets and appliances. Whelton's team advised residents to take additional steps by turning off hot water heaters before flushing, flushing a single faucet at a time, and ventilating buildings during flushing.

In Boston, Whelton's team reported MCHM levels within homes they visited ranged from approximately 60 parts per billion to more than 400 parts per billion. They found that flushing reduced MCHM levels by 80 to 100 percent in two homes tested, while the MCHM level was relatively unchanged in a third home. Whelton said it is unclear why flushing did not effectively reduce MCHM levels on the third home, but proposed that MCHM levels within the utility's nearby main lines could have been present still at elevated levels, affecting the outcome.

Their research also suggested crude MCHM's main ingredient, 4-MCHM, had some, but limited, permeation with crosslinked polyethylene pipe. This finding is important because tap water was stagnated during a ban on water use. Some residents refused to flush their plumbing systems for more than 30 days. "Our plastic pipe results are promising considering the 4 to 10 day mandatory tap water stagnation period ordered by the utility," Whelton said. "More research needs to be conducted to provide a more definitive picture. We are continuing to study crude MCHM's interaction with other plumbing system components, as various types of materials are used in plumbing systems, not just crosslinked polyethylene pipe."

Whelton's research was funded by the National Science Foundation. Participating were Dr. Kevin White, chair of civil engineering; environmental engineering graduate students Keven Kelley and Jeff Gill; environmental toxicology graduate students Matt Connell, LaKia McMillan and Caroline Novy; civil engineering undergraduate student Fredrick Avera; and chemical engineering undergraduate student Mahmoud Alkhaout.

Because of the team's early work, West Virginia Gov. Earl Ray Tomblin tapped Whelton to help conduct an ongoing, larger study.
---