Governor: Higher education 'integral part' of job creation; USA students head to Montgomery in support of university funding
---
Posted on February 27, 2014
Jeb Schrenk
---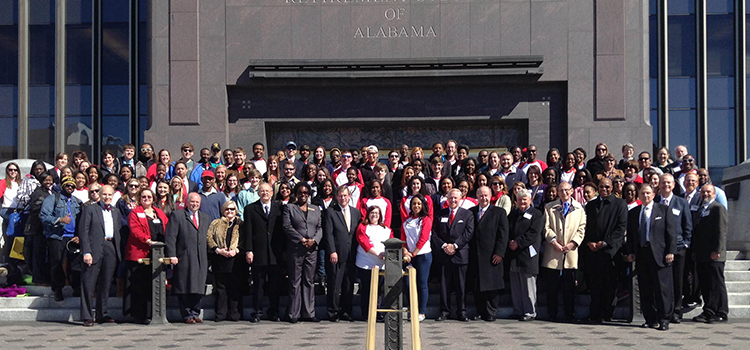 About 225 University of South Alabama students, faculty and staff were in Montgomery on Thursday for Higher Education Day.
Download larger image
---
MONTGOMERY -- Thousands of university students, including a strong delegation from the University of South Alabama, converged on the statehouse today in support of funding higher education.

The crowd at a morning rally enthusiastically and repeatedly answered a call for a return to sending one-third of the Education Trust Fund to Alabama's colleges and universities.

Gov. Robert Bentley promised his support, explaining that the mission of higher education is crucial to his job-growth efforts.

"What we're trying to do in this state is create more jobs, and higher education is an integral part of that," Bentley told the group. "We can't do it without higher education. … It is important that we have more people in Alabama with higher education training."

The students traveled to Montgomery for Higher Education Day, an annual event organized by the Higher Education Partnership, as the Legislature works to put together the 2015 budget.

A group of about 225 USA students, faculty and staff made the trip to the state capital, where they attended the rally and met with legislators, including Speaker of the House Rep. Mike Hubbard, who joined the University delegation for lunch.

"I do understand the value of higher education," Hubbard said. "There is no better investment that we can make in terms of taxpayer dollars than higher education."

The University of South Alabama has an annual economic impact of about $3 billion, with nearly 5,500 employees and $57 million in external contracts and grants in fiscal 2013. Student enrollment annually is more than 15,000.
---