Jim Yance Honored for Service to University of South Alabama
---
Posted on February 19, 2014 by USA Public Relations
USA Public Relations
---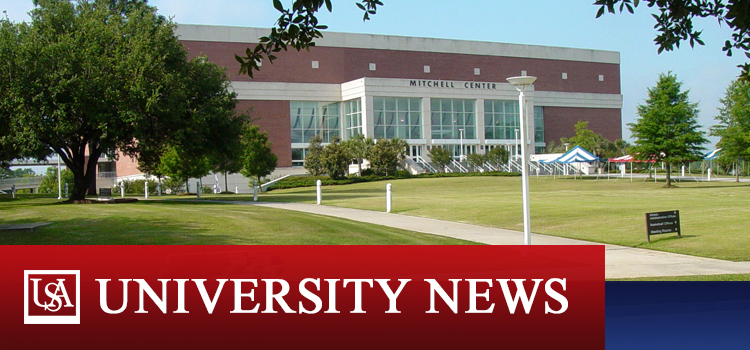 ---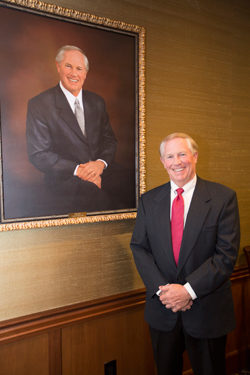 James A. "Jim" Yance, the University of South Alabama's first undergraduate alumnus to serve as Chair Pro Tempore of the USA Board of Trustees, has been honored with a life-sized portrait on campus and the title of "Chair Pro Tempore Emeritus."

The portrait was permanently hung in the board room of the Whiddon Administration Building following Yance's recent completion of a successful three-year term as Chair Pro Tempore.

In a unanimous resolution naming Yance "Chair Pro Tempore Emeritus," the USA Board of Trustees expressed "sincere appreciation to James A. Yance for his many contributions and invaluable service to the Board, the entire University community, and to the people of the state of Alabama, all of whom have benefitted from his wisdom, dedication, service and generosity."

Yance earned his undergraduate degree in political science in 1970, just seven years after USA was founded. After success as a track student-athlete at USA, he went on to graduate from the University of Alabama School of Law in 1973. He has had a successful law career in Mobile, serving more than 30 years with Cunningham, Bounds, Yance, Crowder and Brown. He resides near Malbis in Baldwin County with his wife, Frances.

In addition to serving on the USA Board of Trustees since 2006, including terms as Chair Pro Tempore and Vice Chair Pro Tempore, Yance was citizen chairman of USA's first comprehensive fundraising, Campaign USA, which raised more than $93.5 million.

Yance and his wife, Frances, have made substantial gifts to USA, including an endowment for the football program, Jaguar Athletic Fund, Moulton Tower and Alumni Plaza, and the James A. Yance Endowed Scholarship for Pre-Law Students. The James A. and Frances H. Yance football practice facility on campus honors his contributions. He holds USA's highest alumni honor, the Distinguished Alumni Award.

By law, the Governor of Alabama is Chairman of USA's Board of Trustees. The Chair Pro Tempore traditionally leads oversees the board's meetings, business and day-to-day responsibilities.

Yance was appointed to the Executive Committee of the Alabama Trial Lawyers Association in 1975 and five years later at age 35 became one of the youngest presidents in the history of the organization. In 1983 he was elected to the Board of Governors of the Association of Trial Lawyers of America. At age 39, he was inducted into the International Academy of Trial Lawyers, with membership limited to only 500 lawyers in the world. He is also a fellow of the American College of Trial Lawyers and served as President of the Mobile Bar Association in 2004. He has been listed in the national publication, "The Best Lawyers in America," for many years and in "Chambers USA: America's Leading Lawyers for Business."

Yance has led many civic and charitable activities including: board of directors, State of Alabama Forever Wild Land Trust; board of directors, University of Alabama Law School Foundation; chairman, UA Law School Farrah Law Society; and numerous leadership positions in the Boys and Girls Clubs of Southwest Alabama, YMCA, and Alabama Wildlife Federation.
---