USA to Celebrate Martin Luther King Day with Service and Outreach
---
Posted on January 16, 2014
Joy Washington
---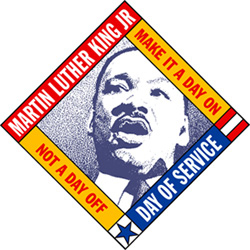 The University of South Alabama will participate in the 2014 Dr. Martin Luther King Jr. Day of Service Monday, Jan. 20 from 9 a.m. - 2 p.m. at the Dumas Wesley Community Center, located at 126 Mobile Street.
Volunteer registration begins at 9 a.m. and JagTran buses will pick up students at the Beta/Gamma Commons and the Grove apartments at USA starting at that time. T-shirts will be given to the first 400 volunteers and a complimentary lunch will be provided.
Students, staff and faculty are invited to participate. Volunteers will help with numerous community activities including building, art, and cleaning projects. A Habitat for Humanity build will take place at 6604 Skipper, located in the Tillman's Corner area, and USA College of Engineering students will help repair a house at 1610 Burdette Drive in the Dauphin Island Parkway area.
Participants in the Common Read/Common World program will be serving at McKemie Place led by USA College of Education Assistant Professor Dr. Peggy Delmas, co-chair of the USA Common Read/Common World program. Volunteers will also work at Ronald McDonald House, Penelope's Closet, L'Arche, and St. Mary's Home. Students are encouraged to find service projects of their own as well.
This initiative is sponsored by the USA Center for Academic Service Learning and Civic Engagement, which is directed by English Instructor Karen Peterson. Additional sponsors for the event are the USA Student Government Association, Jaguar Productions, Eyeglass World, PUSH America, and South Brookley United Methodist Church.
USA Joins universities around the country in supporting the community by participating in service projects. Service learning is a student-focused community effort that builds civic-minded citizens through community service. Students are also mentored by faculty, business and community partner.
Volunteers can pre-register and fill out a liability waiver at www.caslce.org, and information is available at www.facebook.com/usamlkday.
For more information, e-mail Karen Peterson at kpeterson@usouthal.edu. The Center for Academic Service-Learning and Civic Engagement is coordinating the event, which has been planned by the Be the Change Learning Community.
---