USA Lead Applicant in Manufacturing Communities Designation; Federal Funding Available for Workforce Development
---
Posted on May 29, 2014
Jeb Schrenk
---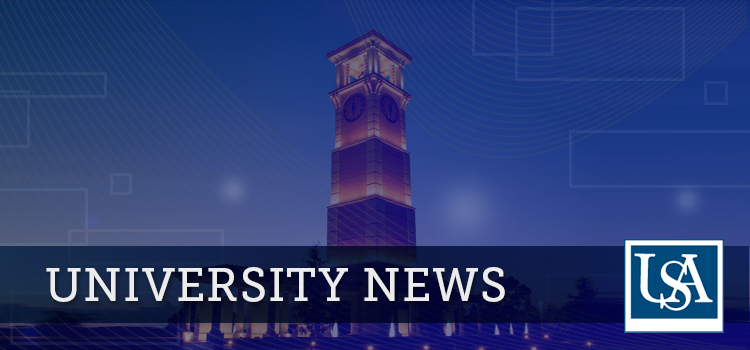 ---
MOBILE, Ala. – Southwest Alabama has been awarded the designation of Manufacturing Community by the U.S. Department of Commerce, and the University of South Alabama will coordinate a consortium competing for federal money to enhance workforce development in the region.
The Commerce Department announced Wednesday that Southwest Alabama is one of 12 communities to receive the designation. Lynne Chronister, USA vice president for research and economic development, submitted the application on behalf of the Mobile Area Chamber of Commerce's Partners for Growth consortium.
"This puts focus on our region, recognizing an alignment of efforts that has created a manufacturing hub in Coastal Alabama and laying the groundwork for future growth," Chronister said. "The Manufacturing Community designation allows us to receive coordinated support from nearly a dozen federal agencies with $1.3 billion available in economic development assistance. It also spotlights nationally what we know locally – when it comes to business development, Southwest Alabama is on the rise."
"To be designated one of 12 manufacturing communities is a huge win for Mobile as we continue to work on recruiting in several industry clusters, including advanced manufacturing and shipbuilding," said Bill Sisson, president and CEO of the Mobile Area Chamber of Commerce. "We have a significant number of manufacturing industries creating jobs in this region. Our ability to develop and train our workforce will be key to ensure continued growth here."
The application for Southwest Alabama emphasizes the growth of the shipbuilding industry and the demand for workforce training.
The U.S. Commerce Department-led program, part of the Investing in Manufacturing Communities Partnership, is designed to accelerate the resurgence of manufacturing in communities nationwide by supporting the development of long-term economic development strategies that help communities attract and expand private investment in the manufacturing sector and increase international trade and exports.
Seventy communities applied. As part of the application, each had to demonstrate the significance of manufacturing already present in their region and develop strategies to make investments in workforce and training, advanced research, infrastructure and site development, supply chain support, trade and international investment, and operational improvement and capital access.
Along with the University and the Mobile Area Chamber of Commerce, local agencies participating in the Manufacturing Communities initiative include: Mobile County, City of Mobile, Southwest Alabama Workforce Development Council, Mobile Works, AIDT Maritime Training Center, Gulf State Shipbuilding Consortium, Bishop State Community College, Alabama Technology Network and Alabama State Port Authority. For more information about the Manufacturing Communities designation, visit the Department of Commerce website or go to https://2010-2014.commerce.gov/news/press-releases/2014/05/28/us-secretary-commerce-penny-pritzker-announces-designation-first-12-m.html.
---