USA Research Team Plans Return Trip to West Virginia to Aid Community Affected by Water Crisis
---
Posted on February 5, 2014 by Jeb Schrenk
Jeb Schrenk
---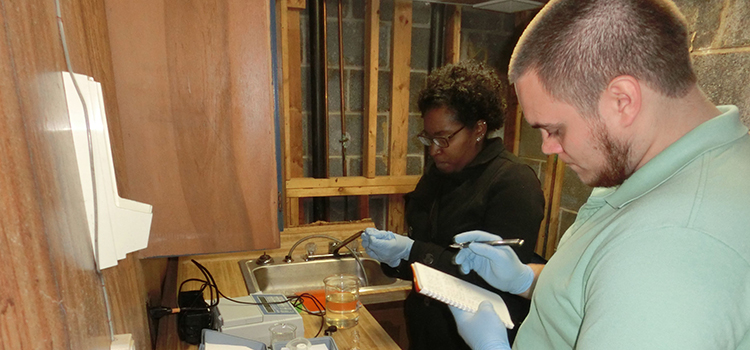 ---
A University of South Alabama research team is seeking crowdsourced funding to make return trips to West Virginia and help residents impacted by a chemical spill that threatened drinking water safety across nine counties.
The researchers are seeking at least $10,000 through the crowdfunding site experiment.com to help offset costs. The site provides the public an avenue to help bring scientific expertise to the people affected by this disaster. Donations are tax deductible.
Meanwhile, the National Science Foundation awarded a separate research grant to the USA group in its effort to determine potential long-term impacts of the Jan. 9 drinking water contaminant incident.
The work is led by Dr. Andrew Whelton, assistant professor of environmental engineering, who took an engineering and science team to Charleston, W.Va., soon after the leak, which affected the drinking water of 15 percent of the state. The group was comprised of Whelton, a former U.S. Army civilian employee; Dr. Kevin White, chair of civil engineering; and graduate students Matt Connell, Jeff Gill, Keven Kelley and Lakia McMillan.
"It is vital that in-home drinking water testing be conducted and that we get a complete understanding of how residents' plumbing systems were affected so that exposure risks can be determined," Whelton said. "By using crowdsourced funding, people from diverse geographies and backgrounds can help the effort to bring independent, scientific research to the water crisis facing the people of West Virginia.
The water crisis affecting some 300,000 residents was set off when several thousand gallons of MCHM, or 4-methylcyclohexane methanol, used in coal processing, leaked into the Elk River upstream of the intake to a regional water utility treatment plant. The leak was discovered after residents detected a licorice odor in their water, leading to a temporary use ban and uncertainty about water safety.
Whelton's team immediately found that many residents had let the chemically contaminated water stagnate in their plumbing systems, even after the water ban was lifted, due to misinformation and safety concerns.
The USA researchers helped residents properly flush out their plumbing systems and began collecting data to try to determine what effect the stagnant water might have on plumbing systems and the water flowing through them. Samples will undergo testing in Whelton's lab and by a third-party, independent lab.
"One of the concerns in this spill is authorities have little to no information about exactly what this chemical does to drinking water plumbing systems. They are simply not designed to hold stagnant chemicals for days and weeks," Whelton said. "Chemicals tend to absorb more into plastic pipes than metal pipes. Plastic pipes can act as a sponge, sucking up chemicals."
The USA researchers want to return to West Virginia in the next month to collect additional drinking water data and continue assisting the community.
The National Science Foundation recently announced Rapid Response Research grants to Whelton's research team and to researchers at two other universities. The NSF, in calling the spill "one of the largest human-made environmental disasters in this century," noted that information is scarce on MCHM's toxicity and health effects. The NSF funding can be used to pay for research and lab work but not costs associated with traveling to West Virginia and outreach efforts there.
"The University of South Alabama is proud of the work that Dr. Whelton and his team of graduate students have done to support the thousands of citizens of West Virginia," said Lynne Chronister, USA vice president of research. "The team brought a high level of expertise to a serious environmental disaster with an amazing degree of commitment to finding solutions."
Josh Cogswell, director of University development, said funding is key to continuing the type of research conducted by Whelton.
"Philanthropic support is always critical to helping our scientists and students achieve our mission of advancing knowledge and providing service," he said. "In the case of a disaster like the chemical spill in West Virginia, private support is necessary to ensuring that Dr. Whelton and his team are able to provide the vital services needed by disaster victims. We are grateful to all who, through their generosity, enable our scientists to make a difference in the world."
For more information, or to support Whelton's research, visit www.experiment.com/wvwatercrisis.
---