Dr. Bob G. Wood Named Dean of USA Mitchell College of Business
---
Posted on June 13, 2014
Alice Jackson
---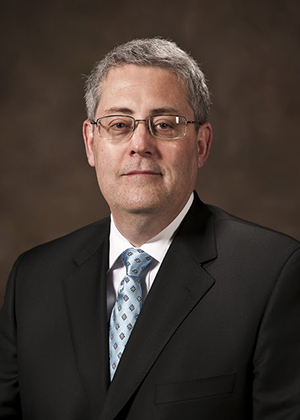 Dr. Bob G. Wood of Salisbury University in Maryland has been named dean of the Mitchell College of Business at the University of South Alabama. He will begin work on July 21.
As dean, Wood will work with MCOB faculty, staff, students and external constituents to enhance the Mitchell student experience. He will also work with the business community to strengthen existing partnerships and develop new relationships to better prepare students for the 21st century global economy.
At Salisbury, Wood served for four years as dean of the Franklin P. Perdue School of Business where his three-fold focus was impact, innovation and experience. Recently, he was named 2014 recipient of the Beta Alpha Psi Outstanding Dean Award.
Wood's accomplishments included leading the redesign of the longstanding student entrepreneurship competition, expanding the single-round business plan competition to three rounds judged by regional business professionals. Total prize money for student business ideas increased from $5,000 to more than $60,000. In addition, proceeds from a $1 million private foundation grant were used to create the Shore Hatchery, which funds entrepreneurial ideas across the mid-Atlantic. In May 2014, the Perdue School and Salisbury University hosted one of six "open calls" for the popular ABC television program "Shark Tank."
During Wood's tenure as dean, the Perdue School's MBA program was restructured to incorporate a seven-week, hybrid course scheduling model that may be completed in one year. The membership of the school's executive advisory council was also expanded, and a career advisory board of young professionals was organized to provide students learning opportunities in mentoring, networking and professional development. A celebration of National Business Women's Week was started to increase the number of working professionals visiting classes to share their experiences. Also, Wood designed and implemented "Business in the Atrium," a daily opportunity for students and employers to interact in a casual manner.
Before joining Salisbury, Wood was an associate dean and the Heidtke Professor of Finance at Tennessee Tech University, where he was responsible for the design, development, implementation and integration of the campus and online MBA programs. During his tenure, student enrollment increased 150 percent. Also, Wood developed and led the International Experience Course, a short-term immersion course for undergraduate and graduate students. He also coached the TTU undergraduate and graduate case competition teams.
A native of Jonesboro, Ark., Wood earned a bachelor of science degree and a master of business administration degree from Arkansas State University. He earned a doctorate in finance from Louisiana State University. Before entering higher education, he worked in the private sector for Abbott Laboratories, the Upjohn Company, and for Dean Witter Reynolds. Wood and his wife, Terri, have three children.
Wood succeeds Dr. Carl C. Moore, who will retire in August after 43 years at USA, including serving as dean for the last 25 years.
---