The Life and Legacy of Dr. King Remembered Through Service and Outreach
---
Posted on January 21, 2015 by Joy Washington
Joy Washington
---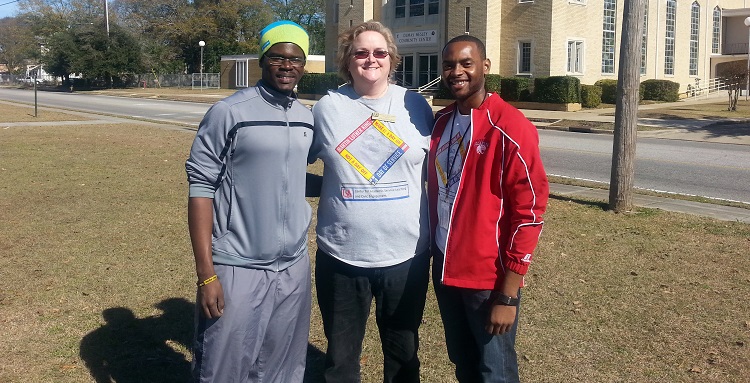 From left at the Dumas Wesley Community Center are Community Chair for Collegiate 100 Ronald Lampkin, Jr.; Karen Peterson, director of USA Center for Academic Service Learning and Civic Engagement; and the University's MLK Day of Service Coordinator Nigel Ashford.
---
Nearly 200 University of South Alabama students, faculty, staff, alumni and community volunteers completed numerous service projects in Mobile and surrounding areas in recognition of Dr. Martin Luther King, Jr.'s Day of Service on Monday, Jan. 19. This event was sponsored by the USA Center for Academic Service Learning and Civic Engagement. English Instructor Karen Peterson serves as director.
Volunteers helped with numerous community activities including art and cleaning projects. Alpha Epsilon Delta, the USA pre-health professional honor society, painted at the Community Action Center. The USA College of Engineering students participated in a weatherproofing project at a local home, and Pi Kappa Phi Fraternity volunteered at the Mulherin Home. Volunteers also cleaned and cooked at the Ronald McDonald House and sorted donated items at Penelope's Closet.
Additional sponsors for the service event were the USA Student Government Association, Jaguar Productions, Goodwill Easter Seals of the Gulf Coast and South Brookley United Methodist Church.
For more information about upcoming service-learning opportunities, e-mail Karen Peterson at kpeterson@southalabama.edu, and visit http://www.southalabama.edu/centers/caslce/events.html.
---