Harry Brislin Named Manager of USA Technology & Research Park
---
Posted on February 2, 2015 by Bob Lowry
Bob Lowry
---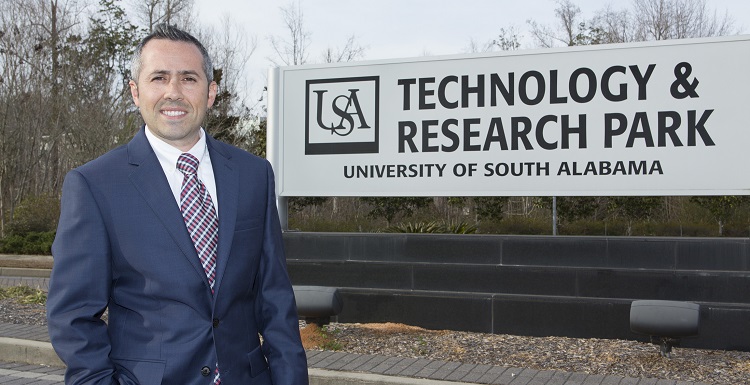 Harry Brislin, a USA alumnus, joined the University on Jan. 30 as USA Technology & Research Park's first full-time manager.
---
A leader in commercial real estate development and project management has been named the manager of the University of South Alabama Technology & Research Park. Harry Brislin joined the University on January 30 as the Park's first full-time manager. Dr. Ker Ferguson, assistant vice president for research at USA and formerly director of the Park, will move into a fulltime role with the USA Office of Commercialization and Industry Collaboration.
"As a graduate of USA, I am thrilled to become a part of the University that has been so integral to my personal and professional development," Brislin said. "With the recent industry expansion in Mobile and the future growth our area anticipates, it's an exciting time to begin working with the Park. I'm eager to reach out and assist in executing the mission of the Park as it grows in becoming the region's foremost innovative economic growth point for research and technology development."
Brislin, a native of Mobile, graduated from USA in 2005 with a degree in communication. Prior to coming to the University, he worked for 15 years with the Mitchell Company, most recently as vice president of commercial sales, leasing and development.
"We're excited to add a dynamic, full-time manager to USA's Technology & Research Park," said Lynne Chronister, USA's vice president for research and economic development. "Harry has performed at a very high level with one of the region's most successful real estate companies, and we look forward to the energy and expertise that he will bring to the Park and the University."
The USA Technology & Research Park, launched in April 2002, is a major economic initiative of the University of South Alabama. It marries University resources with innovative enterprises in a single location that broadens educational experiences for students, generates new research opportunities for faculty and offers growth prospects for industry.
Located on 160 acres just north of the University campus, the Park is a focal point of economic growth for Mobile and the Upper Gulf Coast. For more information, call (251) 460-6384 or visit www.southalabama.edu/departments/research/tech-park/.
---