USA Celebrates Black History Month
---
Posted on February 5, 2015 by Joy Washington
Joy Washington
---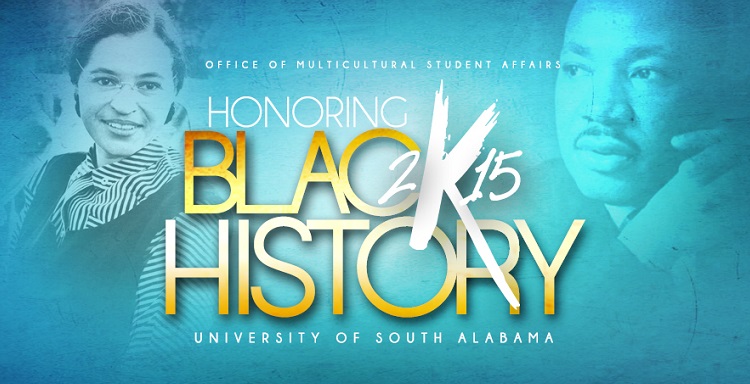 ---
The University of South Alabama will honor African-American history with events throughout February in recognition of Black History Month. All events are free and open to the public.
This year's major events hosted by the USA Office of Multicultural Student Affairs will include an interactive diversity program, "Culture Shock," to be held Thursday, Feb. 5 at 7 p.m. in the USA Student Center Ballroom. The program will be facilitated by Darnell Head, Patrick Wilson and Chuck King with Cultural Competence, which is located in Chicago, Ill. The goal of Cultural Competence is to help individuals gain a social and historical understanding of racial, gender, and cultural stereotypes. For more information, visit http://www.cultureshockent.com/about.html.
On Monday, Feb. 23 at 7 p.m. a screening of the recently released movie "Selma" will be held in the Student Center Ballroom. "Selma" is the story of the historic struggle led by Dr. Martin Luther King, Jr., to secure voting rights for all people, which was a dangerous campaign that culminated with the epic march from Selma to Montgomery, Ala., and led to President Lyndon B. Johnson signing the Voting Rights Act of 1965. For more details about the movie, please view the trailer at http://www.selmamovie.com/.
On Wednesday, Feb. 25 at 6:30 p.m., there will be a performance by MADDRAMA, a performance troupe from Jackson State University in the Student Center Ballroom. This year's theme is "Back to the Future: We Can Never Go Forward Until We Go Back." This theatrical journey will cover the diversity of the African-American culture and end with a futuristic exploration of where the culture is headed.
Black History Month was started in 1926 as Negro History Week by Historian Carter G. Woodson. In 1976, this celebration was expanded to include the entire month of February. Currently, other countries, including Canada and the United Kingdom dedicate a month to celebrate black history. Below is a list of USA Black History Month events:
Feb. 4 - OMSA Night USA Basketball Game vs. Texas State
7:05 p.m. | Mitchell Center Arena
Feb. 5- Culture Shock | Jaguar Productions and OMSA
7 p.m.-9 p.m. | Student Center Ballroom
Feb. 6 - Jags After Dark | Jaguar Productions
7 p.m.-11 p.m. | Student Center
Feb. 9 - Women of Excellence Inductions
7 p.m. | Student Center Terrace
Feb. 11 - Courageous Conversation: Let's Talk About Sex & HIV
6:30 p.m. | Student Center Ballroom
Feb. 12 - University Hospital Healthcare: Partnering with the Community
4 p.m. | Speaker: Dr. Lisa Walton | College of Nursing Auditorium
Feb. 18 - Abeneefoo Kuo Honor Society Inductions
6:30 p.m. | Student Center Ballroom
Feb. 20 - Battle of the DJs | Collegiate 100 and Women of Excellence
7 p.m. | Jag Gym
Feb. 23 - Movie Night: Selma | Jaguar Productions | OMSA | NAACP
7 p.m. | Student Center Ballroom
Feb. 24 - AASA Talent Show
7:30 p.m. | Student Center Ballroom | $2 AASA Members, $3 Non-AASA Members
Feb. 25 - MADDRAMA Presentation
6:30 p.m. | Student Center Ballroom
Feb.26 - Think Teen Program
6 p.m. – 8 p.m. | Student Center Terrace
---