Former Cuban Diplomat to Discuss Changing U.S-Cuban Relations
---
Posted on February 19, 2015 by Alice Jackson
Alice Jackson
---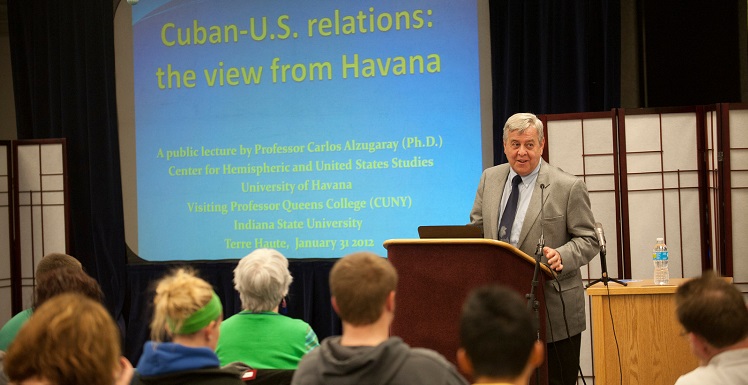 Former Cuban diplomat Dr. Carlos Alzugaray Treto speaks to students at Indiana State University about U.S.-Cuban relations. Photo courtesy of Indiana State University.
---
Dr. Carlos Alzugaray Treto, a former Cuban diplomat, educator, writer and internationally recognized political analyst, will lecture on "Cuban-U.S. Relations after Dec. 17: A View from Havana" at 6 p.m., Feb. 23, in the USA Marx Library.
Alzugaray Treto, who holds a doctorate in historical sciences from the University of Havana, will be a guest of the University's department of political science and criminal justice and the Society of Mobile-La Habana. The lecture is free and open to the public.
Alzugaray Treto is a member of the editorial board of "Temas," a social science and humanities quarterly. A respected essayist and editor, he actively participates in the Writers Association of the Union of Writers and Artists of Cuba (UNEAC). From 1961-1996, Alzugaray Treto, was a diplomatic service officer with the Cuban Foreign Ministry. His last two posts were advisor to the Foreign Minister of Global Political Affairs and ambassador, head of the Cuban Mission, to the European Union. Following retirement from the Foreign Service, he became a lecturer and researcher, achieving the rank of professor titular, the highest rank in the Cuban education system. In 2001, he received the National Critics Award for Nonfiction Literature. He has been a runner-up twice for the Casa de las Americas Prize in Historical and Social Literature. In 2012, the Council of Latin American Social Science awarded him a special scholarship to research and write a monograph on Comparative Regionalism in Latin American and the Caribbean, Europe and Asia. He has also contributed chapters on Cuban diplomacy and foreign policy to the "Routledge Handbook on Diplomacy and Statecraft" and the "Routledge Handbook on Latin America and the World."
For more information on the lecture, email
hhudson@southalabama.edu
, or call (251) 460-7053.
---