Theatre USA Presents 'The Shape of Things'
---
Posted on February 20, 2015 by Alice Jackson
Alice Jackson
---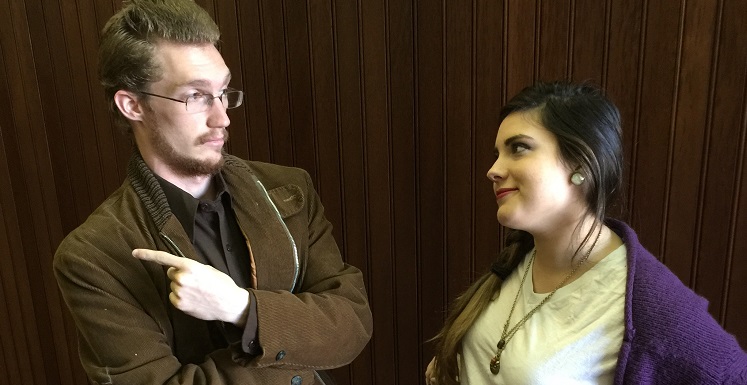 A seemingly random encounter between Adam (Brandon Mallette) and Evelyn (Gabrielle Brou) leads to a stunning climax in the Theatre USA production of Neil LaBute's "The Shape of Things," playing Feb. 20-28 at the Laidlaw Performing Arts Center.
---
Theatre USA will present Neil LaBute's "The Shape of Things" Friday, Feb. 20, thru Sunday, Feb. 28, in the Laidlaw Performing Arts Center on the University's main campus.
Curtain time will be 7:30 p.m. on Feb. 20, 21, 26, 27 and 28. The Feb. 22 performance will be a 2 p.m. matinee.
LaBute's play asks questions about art and love in a dark exploration of modern-day relationships. Set in a small university town in the American Midwest, it centers on the lives of four young students who become emotionally and romantically involved with each other. Due to adult language and situations, this production is not recommended for audience members under age 16.
T. Fulton Burns, assistant professor of theatre and dance, will direct. The cast features theatre students Gabrielle Brou, Brandon Mallette, Tahj Vaughans and Victoria Blackmon.
For more information on the production or ticket sales, call (251) 460-6305, or visit the box office inside the lobby of the Laidlaw Performing Arts Center, located at 5751 USA Drive South. The box office is open 9 a.m.-4:30 p.m., Monday-Friday, and one hour before each performance.
---