'I Knew South Was For Me': SGA President Danielle Watson Talks About Life as a First-Generation College Student
---
Posted on March 2, 2015 by Kristin Odom
Kristin Odom
---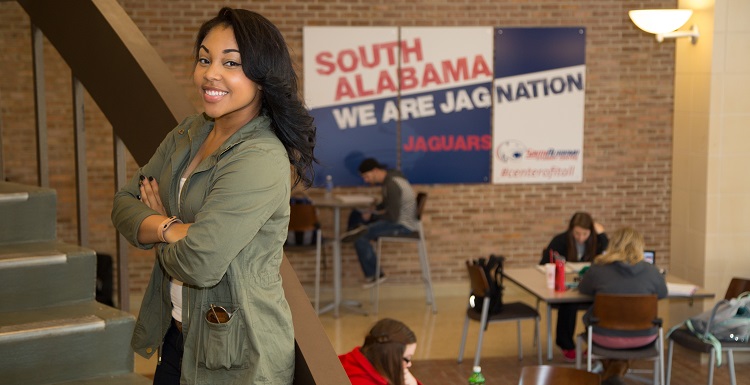 SGA President Danielle Watson said she knows other first-generation students who haven't had as much support as she has. A campus organization was formed in the fall to help first-generation students adjust to college life.
---
College life has a familiar feel to Danielle Watson.
She attends classes while pursuing a degree in professional health sciences. She socializes with her friends. She's already interviewing for admission to graduate schools across the country.
All the while, she's the president of the University of South Alabama's Student Government Association.
Life hasn't always been this seamless.
"My first semester, it was rough for me," Watson said during a recent recorded interview, part of the University's Common Read/Common World focus on "Listening is an Act of Love: A Celebration of American Life from the StoryCorps Project." "I finished my semester with a low GPA. When I saw that, I was hurt, not for myself, but for what I had done for the people who were supporting me. I wasn't studying like I was supposed to, and I wasn't involved like I should be."
Watson is a first-generation student. She arrived at USA without a background of fully knowing what to expect, even though she had support from both her parents and her high school.
"I went to a really good high school; the counselors there were very helpful," she said. "I only applied to a couple of schools. I knew South was for me."
Her story is not unlike those of other first-generation students who seek advancement through higher education. A campus organization was formed in the fall to help first-generation students adjust to college life.
Watson said she knows other students who haven't had as much support as she has. Some of them have to work full-time jobs while going to school and count on themselves to be the motivation to make it through.
After her first semester, Watson knew she had to make a change and do it quickly. It was one of Watson's close friends who introduced her to SGA. Her name was put on the ballot, and it couldn't have made a more positive impact.
"I think it's reaching out," Watson said about how to help first-generation college students, "It's becoming more common for students to not have someone in their family who has been to college, so we need to inform them about their options and how to apply to college. I also want students to know that there are others who are in their same situation, even if they aren't as involved."
That is the impetus behind the group First-Generation College Students. Brittany Wilson, a first-generation student herself, founded the group in the fall after seeing a need through her own experiences and those of others. Wilson works on campus giving tours to prospective students and said she often can spot the first-generation students in her tours. As an example, she said, they have less experience navigating the different types of financial aid available.
Wilson remembered her journey. She took the ACT once, not knowing the score could affect the amount of scholarship money available to her. "I should have taken it more times," she said.
"My freshman year, I had no idea what was going on. I pretty much just came and didn't have any idea what I would do," said Wilson, a criminal justice major who is scheduled to graduate in December.
Wilson said First-Generation College Students has about two dozen active members. The group already has participated in community service projects and held a bonfire. Graduating seniors will get a red cord to attach to their mortar boards to mark their achievement.
The idea behind the group is to link upper-class students, and those who are not first-generation students, with younger students to help them adjust to life at college.
Wilson said the group's next meeting is scheduled for Thursday, March 12, at 7:30 p.m. in the Student Center, Room 211. A fundraiser, "Are You Smarter Than A Professor?" – modeled after the game show "Are You Smarter Than A 5th Grader?" – is planned for April 3.
To get involved in the group, attend the March 12 meeting or contact Wilson at bew1101@jagmail.southalabama.edu or sponsor Karen Peterson at kpeterson@southalabama.edu.
The effort coincides with the University's focus on student retention and success, as outlined in the strategic priorities released last year by Dr. Tony Waldrop, USA president. Waldrop has said the University will support programs and initiatives that help students graduate on time, reducing the cost of education.
Watson is on target to graduate this spring. She's not on her journey alone, either.
"My mom … never went to college," Watson said. "She's actually in school now, and will be graduating two weeks before I graduate with my bachelor's, so that's really exciting that we will be graduating at the same time."
---