USA to Participate in Nationwide Research Effort to Help Communities Increase Resilience to Disaster
---
Posted on March 19, 2015 by Bob Lowry
Bob Lowry
---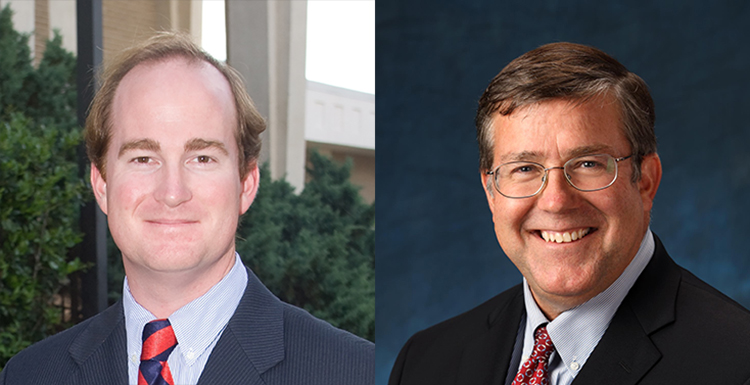 Dr. Bret Webb, left, and Dr. Scott Douglass, both with USA's department of civil engineering, will provide expertise related to hurricane storm surge and waves in their role with the Community Resilience Center of Excellence.
---
University of South Alabama researchers are joining a nationwide effort to help communities recover from disasters. The effort is the centerpiece of the Community Resilience Center of Excellence, which will be based at Colorado State University, and USA is one of 10 universities offering their expertise.
USA's department of civil engineering will provide their unique coastal engineering knowledge related to hurricane storm surge and waves. Drs. Bret Webb and Scott Douglass will help develop risk-based tools that address vulnerability and resilience of the built environment to coastal hazards such as storm surge, waves, erosion and even sea level rise. Webb and Douglass recently authored national engineering guidance for assessing the exposure and vulnerability of coastal transportation infrastructure to extreme events.
"With well over 50 percent of the U.S. population living within 50 miles of a coastline, much of our nation's critical infrastructure is vulnerable to coastal hazards and the expected impacts of long-term sea level rise," said Webb, who is an associate professor of civil engineering.
"What's more troubling is that demand in these coastal areas is increasing, putting more stress on our built environment and underscoring the need for improving the resiliency of our coastal communities," said Webb.
The goal of the center is to develop a risk-based approach to evaluate potential strategies that improve the resilience of the built environment to natural hazards and other significant manmade disruptions. The resilience tools that the center develops will address known and frequent hazards, and gauge the ability of communities and the built environment to adapt to changing conditions and recover quickly from large-scale disasters.
"Based on both experience and study, we understand that the built environment along our nation's shorelines is highly vulnerable today, and will face increased pressures due to the expected impacts of sea level rise and climate change in the future," said Douglass, who is an adjunct research professor of civil engineering at USA. "However, the good news is that making our coastal infrastructure more resilient to extreme storm events today will also reduce their vulnerability in the future."
The five-year, $20 million federal project was announced by the National Institute of Standards and Technology in the U. S. Department of Commerce.
In addition to USA and Colorado State, the center's multi-disciplinary research team includes experts in engineering, economics, data and computing, and social sciences from the University of Washington, the University of Illinois, the University of Oklahoma, Texas A&M University, Oregon State University, Rice University, the California Polytechnic University in Pomona and Texas A&M-Kingsville, along with experts from the NIST.
---