USA Graduate Nick Brownlee Wins Prestigious Metropolitan Opera Competition
---
Posted on March 23, 2015 by Alice Jackson
Alice Jackson
---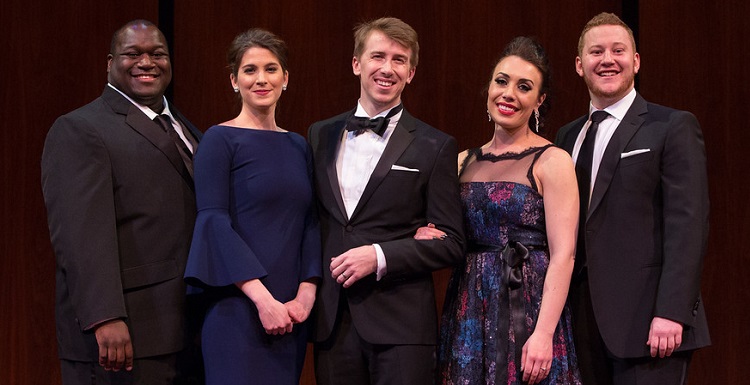 Nicholas "Nick" Brownlee, far right, joins fellow finalists on the stage of the Metropolitan Opera in New York shortly after he was announced as a winner on Sunday of the prestigious Metropolitan Opera National Council Auditions. Brownlee, a 2012 graduate of USA in vocal performance, is considered one of the rising stars of the opera world. Photo courtesy of the Metropolitan Opera Press Office.
---
USA graduate and bass-baritone Nicholas "Nick" Brownlee sang two arias on Sunday in New York to become one of five winning finalists in the Metropolitan Opera National Council Auditions, one of the most prestigious singing competitions in the world.
The Metropolitan Opera National Council Auditions are the pinnacle of operatic competition in the United States, and Brownlee's selection identifies him both as a rising opera star and puts him in the league of many of the world's leading operatic stars who are past winners of the auditions. The win makes Brownlee eligible for an invitation to participate in the Met's Lindemann Young Artist Development Program and to eventually sing at the Metropolitan Opera. He was awarded $15,000 for his win.
"When Angela Meade, the host and our generation's great diva, called my name as a Met grand finals winner, the feeling of joy, shock and relief was completely overwhelming," Brownlee said on Monday.
Brownlee, who graduated in 2012 with a degree in vocal performance, was a voice student of Dr. Thomas Rowell, area coordinator of vocal studies and director of the USA Opera Theatre.
"To say I'm proud of Nick for this achievement and all his accomplishments would be an understatement. This will establish him as a rising young American opera star, and as his first teacher and opera director, it gives me a great sense of satisfaction knowing that it started right here in the USA department of music," Rowell said. "One of the things about Nick that I'm most proud of is that, in spite of his success, he remains teachable, and he remembers his musical roots here at home when he was a student at USA. I am truly excited to watch his successes continue and can't wait to see what happens with his opera career."
On stage before judges at the world-famous Metropolitan Opera in New York, Brownlee sang "Madamina, il catalogo è questo," a popular piece from the opera "Don Giovanni" by Mozart, and the less well-known "Aleko Kavatina" from the opera "Aleko" by Rachmaninoff.
Dr. Greg Gruner, chair of music, said he was "thrilled" to learn of Brownlee's win. "He has made the department of music extremely proud from his time here as an undergraduate, through his graduate studies, and most recently during his accomplishments professionally in Los Angeles and New York. We look forward to many more outstanding musical accolades for this rising star and are honored to list him as an alumnus of our music program," Gruner added.
No video was permitted during Sunday's competition, but to hear Brownlee sing during a December 2014 master class, visit http://bit.ly/1FRFt5O.
Brownlee, a 2007 graduate of Theodore High School, came to USA with the intent of becoming a high school choral director. However, with the urging and encouragement of Rowell, he became involved in the Mobile Opera Chorus in their 2007 production of Verdi's "La Traviata," and he began focusing on pursuing a career as an opera singer. He became heavily involved in USA Opera Theatre, and as a freshman made his Mobile Opera debut as one of the judges in Umberto Giordano's "Andrea Chenier Turandot," and he later sang the roles of Angelotti in Puccini's "Tosca" and the Mandarin in Puccini's "Turandot" with the company. During his junior year, Brownlee won the Gulf Coast Region of the Metropolitan Council Auditions in New Orleans, and he sang as a semi-finalist for the first time on the Met's stage.
After graduation from USA, Brownlee studied at Rice University in Houston as a graduate student of Dr. Stephen King, an internationally recognized voice teacher and the Lynette S. Autrey Professor of Voice and Chair of Vocal Studies at the Shepherd School of Music at Rice. During this time, Brownlee was accepted into major prestigious operatic apprentice summer programs, including programs in Beijing, China; Israel; the Wolf Trap Opera Program and the Santa Fe Opera. He is currently a member of the Los Angeles Opera Domingo-Colburn-Stein Young Artist Program under the direction of legendary operatic tenor Placido Domingo. He has appeared on voice master classes with renowned operatic stars such as Sherrill Milnes, Thomas Hampson and Joyce DiDonato. He recently made his solo debut with the Los Angeles Philharmonic Orchestra under the direction of Gustav Dudamel.
During the 2014-2015 season, Brownlee debuted with the Los Angeles Philharmonic as the bass soloist in the Beethoven Choral Fantasy, as well as at Barbican Hall in London in performances of "Alice in Wonderland," co-produced with the Los Angeles Philharmonic. He is a first place winner of the Palm Springs Opera Guild Competition and was a national semi-finalist in the Metropolitan Opera National Council Auditions in 2011.
Brownlee will be returning for his second year at the Los Angeles Opera as a Domingo-Colburn-Stein Young Artist for the 2015-2016 season where he will make role debuts as Colline in "La Boheme," conducted by Gustavo Dudamel, Speaker in "Magic Flute," Bronze in "Madame Butterfly," and the Gardener in "Moby Dick." The 2015-2016 season will also include his Atlanta Opera debut as Colline in "La Boheme." He will also be returning for his second summer at the Santa Fe Opera in the roles of First Soldier in " Salome," as well as covering the Suplice in "Daughter of the Regiment" and Blind Man in "Cold Mountain."
---