Renowned Galapagos Islands Researcher to Lecture at USA
---
Posted on March 24, 2015 by Alice Jackson
Alice Jackson
---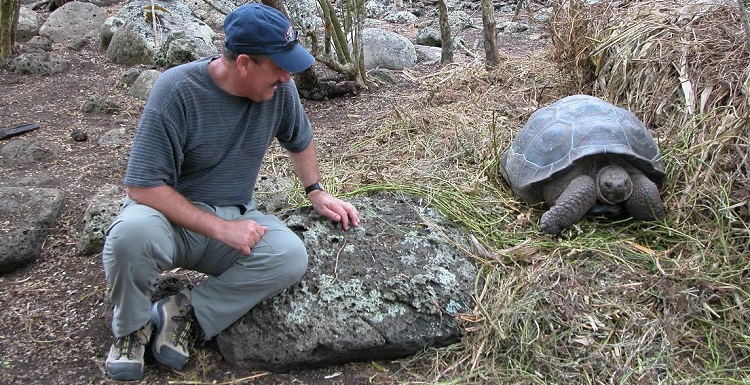 Dr. Stephen J. Walsh watches a Galapagos Island turtle during a visit to the Galapagos Science Center. Walsh is recognized internationally for his studies of human impacts on the islands.
---
Dr. Stephen J. Walsh, internationally recognized for his research into human impacts on the Galapagos Islands, will present a seminar at the University of South Alabama, on Tuesday, March 31.
Walsh, a distinguished faculty member at the University of North Carolina at Chapel Hill, will speak on "Ecuadorian Amazon to the Galapagos Islands: Modeling Human-Environment Interactions in 'Complex' Settings," 4:30-5:30 p.m., in the auditorium of the USA Marx Library. The event is free. Refreshments will be served afterward.
Drawing on work conducted in the Ecuadorian Amazon and the Galapagos Islands of Ecuador, Walsh's presentation will focus on biocomplexity, a framework that combines social-ecological co-evolution and adaptive resilience to incorporate human impacts on the environment. Biocomplexity encompasses the complex interactions within and among ecological systems, the physical systems on which they depend and the human systems with which they interact.
The seminar will describe spatial pattern and social and ecological processes and their linked effects by examining the behavior of farmers linked to deforestation, agricultural extensification and urbanization in the Ecuadorian Amazon. Galapagos Island topics that will be discussed include the adaptive capacity of farmers, fishermen and tourists that influence household diversification and environmental quality and the protection of iconic species relative to government policies, the spread of invasive species and land abandonment.
Walsh is the Lyle V. Jones Distinguished Professor at the University of North Carolina at Chapel Hill, research fellow of the UNC Carolina Population Center, director of the UNC Center for Galapagos Studies, an adjunct professor at the Universidad San Francisco de Quito, Ecuador, and co-director of the Galapagos Science Center, San Cristobal Island, Galapagos Archipelago, Ecuador.
The Galapagos Science Center is a facility for research, education and community outreach and engagement programs in the Galapagos Islands. It contains a microbiology lab, terrestrial ecology lab, marine ecology lab and a spatial analysis and modeling lab as well as classroom, conference and office spaces.
For more information on Walsh's lecture, call Dr. Sytske Kimball, chair of earth sciences, at (251) 460-7031, or email skimball@southalabama.edu.
---