USA Center for the Study of War & Memory to Host "The Civil War in History and Memory, 1865-2015" on April 6
---
Posted on March 27, 2015 by Alice Jackson
Alice Jackson
---
The Center for the Study of War & Memory at the University of South Alabama will focus on "The Civil War in History and Memory, 1865-2015" during a day-long symposium on April 6.
Dr. Steven Trout, director of the center and chair of English, will present opening comments at 9:30 a.m. in the Seaman's Bethel Hall, located on USA South Drive. The building, which was moved from downtown Mobile to the University's main campus in the 1970s, concealed construction of the Confederate submarine H.L. Hunley in the early 1860s. The Hunley later became the first submarine to sink a wartime vessel.
The April 6 event is free and open to the public.
Keynote speaker, 1:30 p.m.-2:30 p.m., will be Dr. Benjamin Cloyd, author of "Haunted by Atrocity: Civil War Prisons in American Memory" and a professor at Hinds Community College in Raymond, Miss. His book, published by LSU Press, explores the story of Civil War prisons from a new perspective. Cloyd traces the evolving ways Americans from 1861 to the present have struggled to come to terms with the memory of Civil War prisons and to answer the question of what the suffering of prisoners during the Civil War really means. Cloyd, a native of Paducah, Ky., received a bachelor of arts degree from the University of Notre Dame. He earned both a master of arts degree and a doctorate from Louisiana State University.
Other University sponsors for the symposium include the USA Honors Program, the African-American Studies Program, the department of English and the department of history.
Speakers at the symposium and the schedule:
Dr. Mel McKiven, associate professor of history, "Wartime Correspondence and Confederate Morale," 9:45-10:30 a.m.

Dr. Elizabeth Rivenbark, associate professor of visual arts, "The Effects of the Civil War on Children in the Paintings of Eastman Johnson," 10:30-11:15 a.m.

Carol Ellis, director of McCall Rare Book and Manuscript Library, "The Civil War and its Aftermath as seen through the Photographer's Lens," 11:30 a.m.-12:15 p.m.

Lunch break, 12:15-1:30 p.m.

Keynote Presentation, Dr. Benjamin Cloyd, "Civil War Prisons in American Memory," 1:30-2:30 p.m.

Panel discussion, "Civil War Memory," 2:30 p.m., Frye Gaillard, USA writer-in-residence; Dr. Kern Jackson, assistant professor of English and director of African-American Studies; Rivenbark and Cloyd. Dr. Susan McCready, professor of foreign languages and literatures, will moderate.
For more information on the symposium, contact Trout at (251) 460-6146, email strout@southalabama.edu, or visit www.southalabama.edu/departments/research/warandmemory/.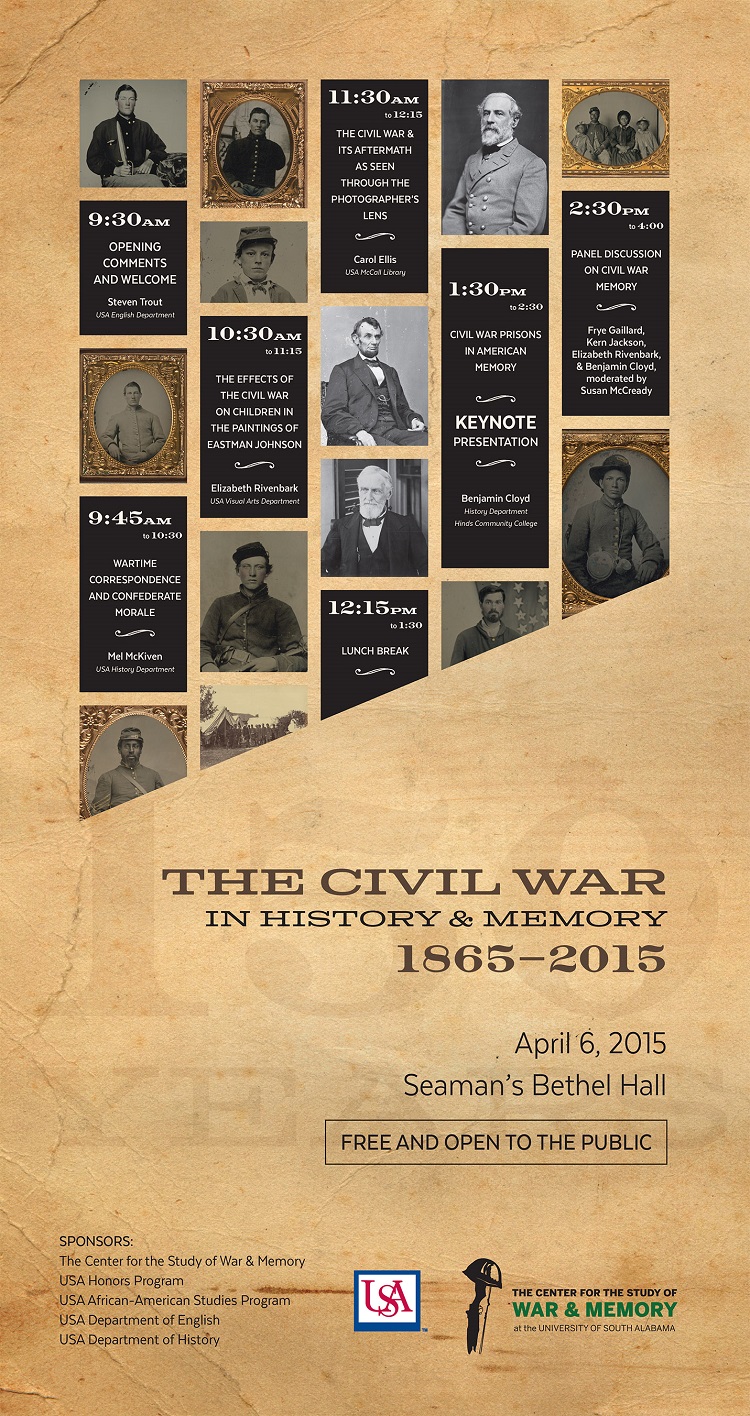 ---