Jaguar Marching Band Selects Drum Major for Next Season
---
Posted on April 1, 2015 by Joy Washington
Joy Washington
---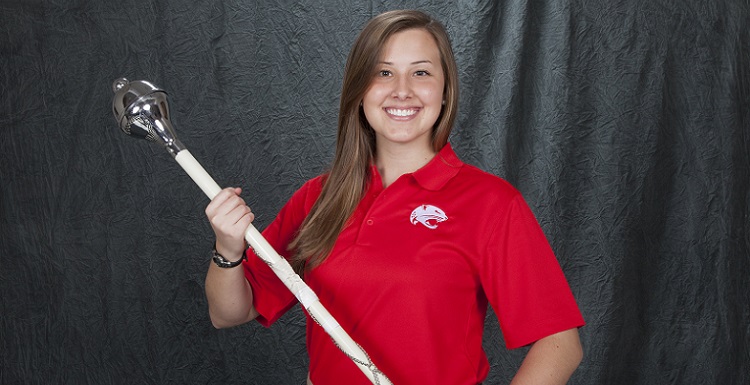 Carson Watson, a sophomore biology major and a native of Prattville, Ala., has been selected as the next drum major for the University of South Alabama Jaguar Marching Band.
---
Carson Watson, a sophomore biology major at the University of South Alabama, has been in a marching band since ninth grade. Watson, 20, a native of Prattville, Ala., never dreamed she would become drum major for the South Alabama Jaguar Marching Band.
"I am humbled and honored to have been selected for this opportunity of a lifetime," Watson said. "I love marching on the field, so taking on the role of drum major was never one of my goals. It wasn't until I saw the poise and confidence of outgoing drum major Rebecca Mitchell that I was inspired to audition."
While marching this season, Watson admired the positive impact Mitchell had on the Jaguar Marching Band and wanted to follow her example. She said Mitchell always was willing to give advice and help anyone in need.
"Being the drum major for the marching band was such a humbling and indescribable experience," Mitchell said. "Every student in the JMB became like family to me, and I can't wait for Carson to have a similar experience."
The audition was rigorous, lasting the entire fall semester of 2014. During the audition process, Watson auditioned with nine other band members, where they conducted, did an "in-the-stands" simulation, taught marching fundamentals, and demonstrated the high kick and other tradition JMB Drum Major visuals. The final component of the audition was an interview with the selection committee, consisting of Petersen, Associate Director of Bands Michael Phillips, Feature Twirler Taylor Meckley, and Dr. Will Petersen, USA's Director of Bands and Director of the Jaguar Marching Band.
"The audition experience allowed me to get to know the other candidates on a more personal level," Watson expressed. "It was great to grow with them throughout the process."
This year is Watson's second season marching in the Jaguar Marching Band and Petersen is excited about Watson leading the band next season.
"Carson, an exemplary student, distinguished herself from a group of incredibly talented candidates, each one of which could have handled this extremely visible position with great poise and confidence," Petersen remarked. "She showed an incredible amount of preparation and excellence in all facets of the audition, including demonstration of traditional Jaguar Marching Band drum major visual elements. Her final interview was fantastic."
Watson understands that to be a great drum major, one has to have a desire to serve others. She said great drum majors understand that the marching band's needs come before their own. Watson is also grateful for how she was raised to focus on being a servant leader. Her family has been very supportive through this process.
"Serving as drum major will be an experience that I will never forget," Watson explained. "Those close to me are excited to see me grow as a person and a leader. My family and friends can't wait to be there to cheer me and the Jaguar Marching Band on at our first performance. I want to embody the energy, poise, and professionalism of past drum majors Rebecca Mitchell and Cody Salter. Their tradition of leadership will help me to become the drum major that the Jaguar Marching Band deserves."
Petersen and Phillips announced the selection of Watson as the next drum major of the Jaguar Marching Band during the band's awards banquet held recently.
---