USA to Rally on Higher Education Day
---
Posted on April 6, 2015 by Bob Lowry
Bob Lowry
---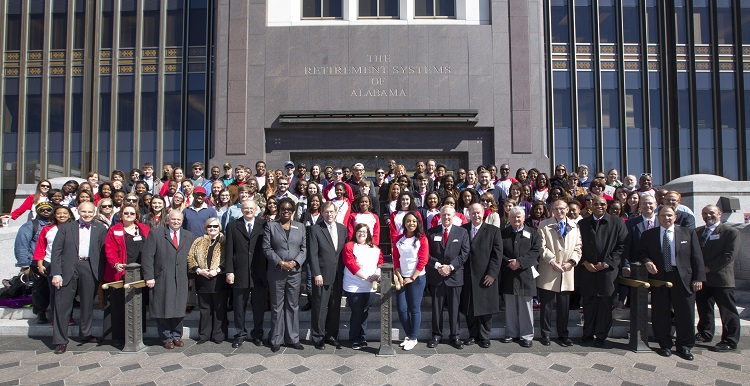 Hundreds of University of South Alabama supporters converged on Montgomery for Higher Education Day in 2014. This year, a delegation from USA will head to Montgomery April 9 for the annual event highlighting the importance of higher education.
---
University administrators, faculty, staff, students and alumni will join thousands of other representatives from across Alabama on Thursday, April 9, for the annual Higher Education Day Rally on the front steps of the Alabama State House in Montgomery.
During the 11 a.m. rally, attendees will remind legislators and other state officials of the important relationship of higher education to the state's economic future as the legislature prepares the 2015-2016 state budget.
Following the rally, University President Tony Waldrop and USA faculty, staff, students and alumni will host a luncheon in the RSA Plaza Building for the Southwest Alabama Legislative Delegation. Gov. Robert Bentley and Speaker of the House Rep. Mike Hubbard will also attend the luncheon.
The message for this year is an increase to USA's budget that recognizes the University's rapid enrollment growth. USA enrollment has increased by 10.5 percent in the past five years; meanwhile, the enrollment growth for all Alabama universities is 5 percent.
Sponsored by the Higher Education Partnership, which represents 14 of Alabama's public institutions of higher learning, the rally is the capital city's largest annual advocacy event. The event provides opportunities for participants to meet with legislators as well as other state officials involved in funding for higher education.
"This is a great opportunity for us to visit with our local legislators, thank them for their support of USA, and make sure they are aware of our budget message for this year," said Happy Fulford, executive director of Governmental Relations. "It is important that we have a good representation in Montgomery on April 9th."
The Office of Governmental Relations will provide a bus for administrators, faculty and staff to attend the rally. The bus will depart the Beta/Gamma parking lot at 7 a.m. and it will return participants no later than 5 p.m. Faculty and staff need to reserve seats for the bus trip by e-mailing Nick Lawkis at nlawkis@southalabama.edu.
The Center for Academic Service-Learning and Civic Engagement is asking faculty members to use this trip to Montgomery as a service-learning opportunity for their classes. To discuss service-learning opportunities, contact Karen Peterson, co-director of the Center for Academic Service-Learning and Civic Engagement, at (251) 460-6148, or e-mail kpeterson@usouthal.edu.
Students may reserve bus seats and sign their liability waivers for Higher Education Day by visiting www.southalabama.edu/centers/caslce/highered.html.
---