USA Employees Recognized for Common Read Journal Article
---
Posted on April 7, 2015 by Joy Washington
Joy Washington
---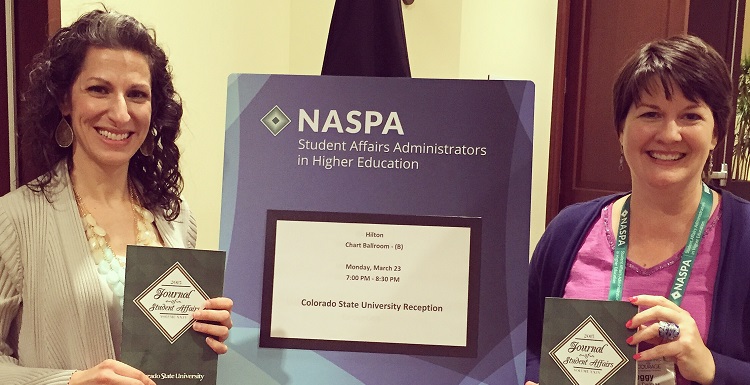 Dr. Krista Harrell, left, associate dean of students, and Dr. Peggy Delmas, assistant professor in the College of Education, were recently recognized for their article "Partnering for a Purpose: Student Affairs, Academic Affairs and a Common Reading Program."
---
University of South Alabama Drs. Peggy Delmas, assistant professor in the College of Education, and Krista Harrell, associate dean of students and Title IX coordinator, were recently recognized for their article featured in "The Journal of Student Affairs" at the Student Affairs Administrators in Higher Education, NASPA 2015 Conference held in New Orleans.
"I am incredibly fortunate to work with a colleague as strong as Dr. Delmas." Harrell stated. "She is a fantastic champion for the Common Read/Common World program and was instrumental in the success last year and leading into this year."
Their research article, "Partnering for a Purpose: Student Affairs, Academic Affairs and a Common Reading Program," describes the outstanding and important collaboration between Academic Affairs and Student Affairs while creating and planning a university common reading program, which is in its second year at South Alabama.
"The article is a response to continued calls for increased collaboration between student affairs and academic affairs in higher education," Delmas noted. "In the article, Dr. Harrell and I describe the partnering of these two divisions to produce a common reading program for the benefit of student learning and the university community."
In the journal article, Harrell and Delmas explained how the Common Read program could potentially engage and retain students. The article also shared how USA's Academic and Student affairs worked together to plan, implement and promote the Common Read program. Details were given about the University-wide participation along with highlights of the program's outcomes, challenges and future expectations based on research.
This academic year, Harrell co-chaired the planning committee with Dr. Allan Hillman, assistant professor of philosophy. Dr. Nicole Carr, director of student academic success/retention, provided faculty support. Delmas served as the first planning committee chair for Common Read.
The USA book selection committee chose "Listening is an Act of Love: A Celebration of American Life from the StoryCorps Project," first published in 2007. This book, edited, with an introduction by Dave Isay, served as the 2014-2015 book selection for the USA Common Read/Common World program. Common Read is a partnership with the divisions of Academic Affairs and Student Affairs.
The committee is preparing to officially announce the selection of the 2015-2016 Common Read book and programs.
---