Native American Studies Program, Archaeology Museum to Host "Dances with Cosmology"
---
Posted on April 1, 2015 by Alice Jackson
Alice Jackson
---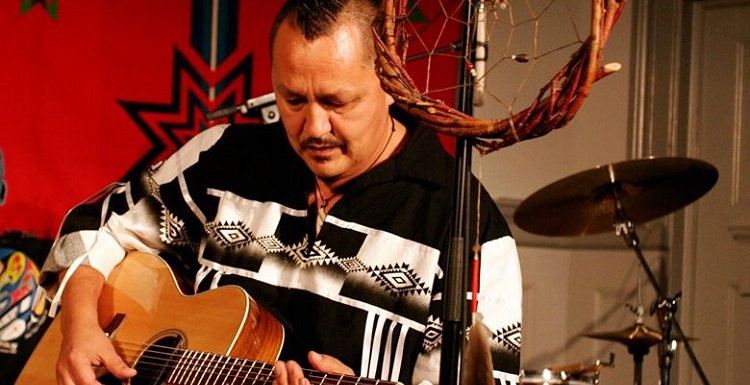 Art Napoleon is known as a versatile bi-lingual singer and songwriter with a wicked sense of humor. He will perform April 9; the event is free and open to the public.
---
The USA Native American Studies Program, with funding from the Poarch Band of Creek Indians, and the Archaeology Museum will present "Dances with Cosmology: Native American Spiritual Philosophy from a Northern Cree Tribal Perspective" on April 9.
The program features musician Art Napoleon, a bushman and underground troubadour from northern British Canada. He will speak and perform at 7 p.m. in the auditorium of the Humanities Building. The event will be free and open to the public.
Napoleon is known as an extremely versatile bi-lingual singer and songwriter with a wicked sense of humor who uses his talents to bridge cultures. Raised by Cree-speaking grandparents in Canada's remote northern woodlands, he turned from hunting and gathering to crafting songs with clever, thoughtful lyrics filled with intriguing mystical experiences and characters. In his unique way, Napoleon manages to be both irreverent and deeply spiritual. Napoleon has performed throughout Canada and the U.S., including sharing a stage with Buffy Ste. Marie, Richie Havens and songwriting legend Guy Clark.
This award-winning songwriter has been featured on many radio and television programs as well as in concert performances, interviews, comedy sketches, voiceovers, narration, soundtracks, hosting and acting. Despite his full and varied life, Napoleon remains firmly connected to his roots and returns to his homeland regularly for cultural retreats and to mentor youth who want to apply cultural traditions and philosophies to a contemporary context. During huckleberry season he can still be found camping in the mountains, chasing moose, and searching for lost dreams and new fishing holes.
The Poarch Band of Creek Indians Native American Studies Program was founded in 2014 to focus on the history, culture and modern life of Native American peoples. The program is sponsored in part by a $500,000 gift from the Escambia County, Ala., tribe.
For more information on the University's Native American Studies Program and Art Napoleon's presentation, call the Archaeology Museum at (251) 460-6106, or email bfilion@southalabama.edu.
---