USA Volunteers Lend Hand at JaguarsCare National Day of Service
---
Posted on April 19, 2015 by Alice Jackson
Alice Jackson
---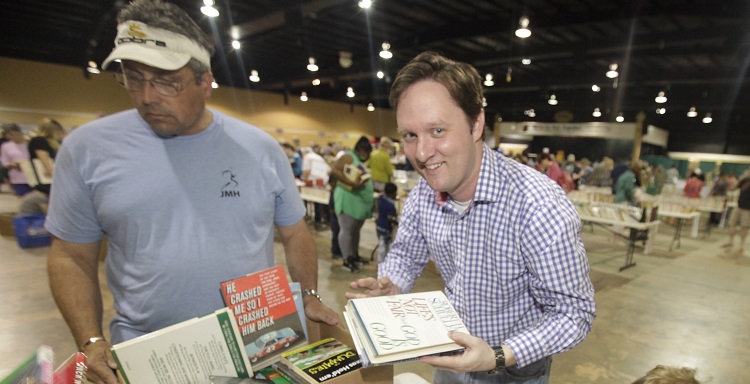 Joshua Cogswell, director of University development, tallies receipts for the Mobile Public Library's book sale Saturday during the 2015 JaguarsCare National Day of Service.
---
University of South Alabama alumni, students, faculty, staff and friends in Mobile overcame bad weather on Saturday, April 18, to make the Second Annual JaguarsCare National Day of Service successful.
Some volunteers picked up litter in the rain at intersections of Old Shell Road near the USA main campus. Other volunteers walked to raise money for the March of Dimes March for Babies near USA Children's & Women's Hospital. At the Mobile County Public Library's annual book sale, held at the Abba Shrine Center, participants assisted hundreds of book buyers. At the Bay Area Food Bank, others sorted and boxed food.
"I could not be more proud of our Jaguars," said Karen Edwards, executive director of the USA National Alumni Association. "They turned out to support us here despite the bad weather, making this year even more successful than last year."
Edwards added that early reports indicated turnout was also good at JaguarCares events held around the United States and even in Mongolia and Scotland where USA alumni organized service events.
The annual day is organized by the USA National Alumni Association's board of directors. USA alumni chapters or individuals will lead each project, reflecting a diversity of interests and passions, with the aim of making a positive impact in communities.
On Friday, postponements were announced for the 2015 Earth Day Festival, the USA Baldwin County Beautification Project and the Crichton community clean-up due to inclement weather.
For a complete list of where projects were held, visit http://www.southalabama.edu/departments/alumni/jaguarscare.html.
---