USA Employee Campaign Makes $800,000 Impact
---
Posted on May 8, 2015 by Jeb Schrenk
Jeb Schrenk
---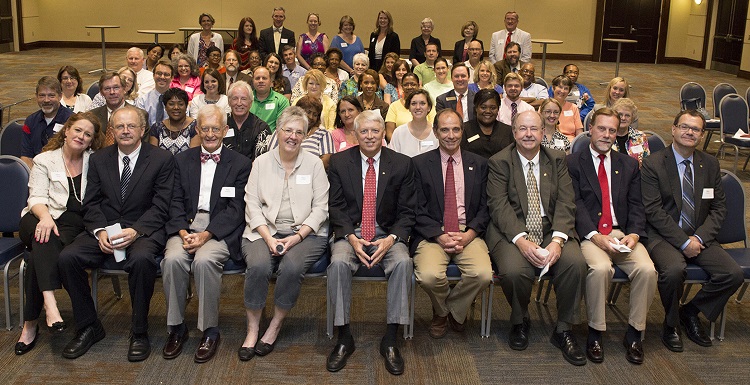 University of South Alabama administrators and leaders of the 2015 Employee Annual Fund gather May 5 at the Student Center for a celebration reception, where it was announced the campaign raised more than $800,000.
---
University of South Alabama employees continued their tradition of giving and investing in USA's students and programs with $801,390.96 raised by the 2015 Employee Annual Fund.
The campaign recorded a 21 percent increase over last year and had nearly 3,000 donors. More than half of the University's employees contributed to the fund. The amount raised by USA's health division employees alone nearly doubled from 2014.
"This was a transformational campaign," said Dr. Tony Waldrop, USA president. "The results show the exceptional dedication and devotion of our faculty, staff and retirees and why the University of South Alabama is such a special place."
This year was the 12th year for the Employee Annual Fund. The impact amount easily surpassed expectations, with 137 percent of the goal raised.
"Over 12 years, the Employee Annual Fund has been award-winning, recognized nationally and is among the most successful employee campaigns in the Southeast," said Dr. Joseph F. Busta, vice president for development and alumni relations. "All of that can be attributed to the service and generosity of our employees, who recognize USA's vital role in our community."
In all, 55 departments achieved 100 percent giving participation, up from 37 last year.
Gifts were contributed to 281 University funds that make meaningful differences to students, patients, colleagues, and all those in the community that USA serves.
The campaign provides resources to advance the University by, among other ways:
Increasing the number of scholarships available to students.

Recruiting top faculty and health care providers.

Ensuring that USA's health care and academic programs remain state-of-the-art.
Dr. Mary Townsley, associate dean of the College of Medicine, and Dr. Alec Yasinsac, dean of the School of Computing, were the co-chairs of the 2015 Annual Fund. Dr. Robert Van Barrow, professor emeritus and former chair of the department of political science and criminal justice, represented retirees.
"This is truly a great outcome, and it's going to make a huge impact," Yasinsac said at the campaign's celebration reception.
Townsley, after noting contribution totals from health division employees, was succinct: "All I can say is, 'Wow.' I am impressed."
---