USA to hold Commencement Ceremonies on Saturday
---
Posted on May 8, 2015 by Bob Lowry and Alice Jackson
Bob Lowry and Alice Jackson
---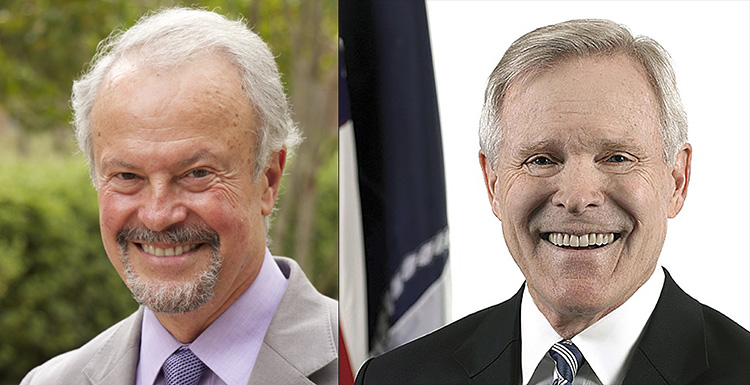 Dr. Richard Lapchick, left, an internationally recognized sports sociologist, and U.S. Secretary of the Navy Ray Mabus will speak at the 2015 Spring Commencement ceremonies.
---
Graduates at the University of South Alabama's Spring Commencement this Saturday, May 9, will be the first in the University's history to receive their diplomas in two separate ceremonies held the same day in the Mitchell Center. The first ceremony will be at 9:30 a.m. with speaker Dr. Richard Lapchick, an internationally recognized sports sociologist. The second ceremony will begin at 2 p.m. with U.S. Secretary of the Navy Ray Mabus as speaker.
Details on each ceremony, including times for each college and school, can be found at: www.southalabama.edu/departments/registrar/.
In the two ceremonies, 2,024 degree candidates will be recognized and honored. Total degrees awarded in USA's history now number 80,220.
USA is scheduled to award 1,295 bachelor's degrees, 485 master's degrees, 114 doctor of nursing practice degrees, 74 doctor of medicine degrees, 32 doctor of physical therapy degrees, 23 doctor of philosophy degrees, 11 doctor of audiology degrees and six educational specialists. The undergraduates include 278 students set to graduate with honors.
USA and the Mobile County Public School System will partner again this year to provide live streaming of the University's Spring Commencement. The live coverage begins May 9 at 9:30 a.m.
Parking and Shuttle Info:
For graduating students, there will be reserved parking in the lot behind the Mitchell College of Business on Jaguar Drive. Admittance to the Health and Physical Education Building is for graduating students only.
Handicapped parking will be limited but available at the Mitchell Center lot for students, family and friends. Entrance to this lot will be from Old Shell Road only (behind the Mitchell Center). Proper tags must be visible for access to this lot.
Parking signs will be posted throughout the campus, and shuttle service will be available from posted areas. Directional parking signs will be displayed.
A shuttle service will run continually, beginning at 7:30 a.m. Shuttle pickup and drop-off points are University Commons, Gamma Residence Hall parking lot, Humanities Building parking lot, Whiddon Administration Building parking lot, Jaguar Drive, and the parking lot east of the Computer Services Center.
---