University of South Alabama Supermileage Car Ready for Tough SAE Competition
---
Posted on May 15, 2015 by Alice Jackson
Alice Jackson
---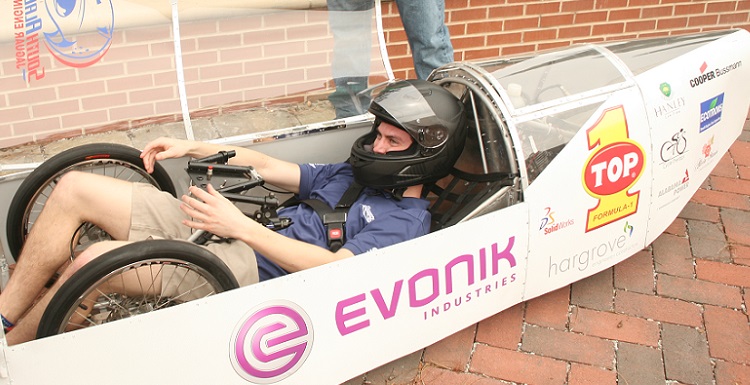 Brandon Troub, an engineering major at the University of South Alabama, demonstrates the USA Supermileage Car, which will be a highlight of the College of Engineering's Car Show on Saturday at Shelby Hall on the USA campus.
---
View more photos of the USA Supermileage Car.
---
On Thursday, May 14, nine University of South Alabama students displayed the USA Supermileage Car they will drive in competition against other college students next month in the 36th SAE Supermileage Competition sponsored by the Society of Automotive Engineers. The car that uses the least amount of gas to go a specified distance will win.
The public will get a look at the vehicle Saturday, 10 a.m. until 2 p.m., during the College of Engineering Car Show held in front of Shelby Hall on the USA main campus. Admission to the car show, which is open to the public, is free. The fee to show a car is $20.
The annual Supermileage event permits college teams to build a single-passenger vehicle using a one-cylinder, four-cycle engine, but significant modification is allowed. The modifications often lead to some highly unusual vehicles.
The Supermileage competition helps students develop practical engineering and problem-solving skills they can use to success in their careers, such as making future vehicles more fuel efficient. USA entered the competition for the first time last year, and its car came in 13th in a field of 29 entrants.
"We're shooting to be in the top five this year," said Chris Hanley, a senior mechanical engineering major. "We've lightened the vehicle's weight by using acrylic, and we've made some other modifications that we don't want to discuss."
Hanley's eight teammates include various engineering students, an accounting major and a communications major.
The SAE Supermileage Competition will be held June 4-5 at the Eaton Corporation proving grounds in Marshall, Mich.
---