Education as an Export: USA Takes Part in Trade Mission
---
Posted on May 28, 2015 by Jeb Schrenk
Jeb Schrenk
---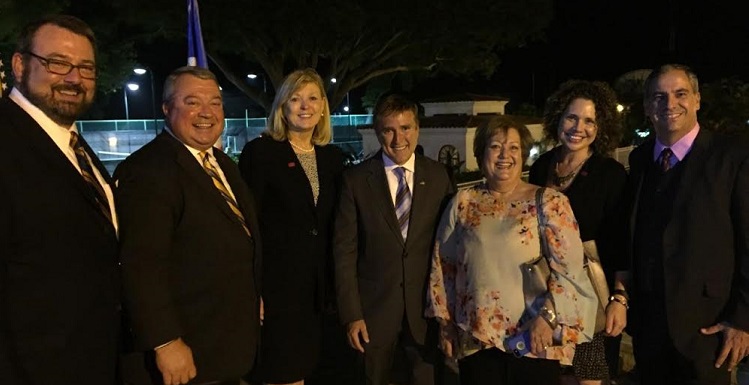 USA Director of International Education Holly Hudson took part in a trade mission earlier this month to the Dominican Republic with other Alabama representatives of education, industry and commerce. Among those who attended were, from left, Troy Wayman, vice president of Economic Development for the Mobile Area Chamber of Commerce; Greg Canfield, Alabama commerce secretary; Hilda Lockhart, director of international trade for the Alabama Department of Commerce; U.S. Ambassador James "Wally" Brewster; Maria Mendez, director of Latin American Trade and Development for the Alabama State Port Authority; Hudson; and Denson White with APM Terminals in Mobile.
---
The University of South Alabama recently took part in a trade mission to boost opportunities in education, tourism and commerce between the U.S. and the Dominican Republic.
South Alabama was one of only three Alabama universities represented in the delegation.
"The trip provided some real opportunities to recruit students and develop collaborations for student and faculty exchange, joint degree programs, English language learning, teacher training and internships," said Holly Hudson, USA's director of international education. "The trade mission was an excellent opportunity to promote the city of Mobile and the University of South Alabama."
The trade mission, which took place earlier this month, was led by Alabama Secretary of Commerce Greg Canfield. The trip came as trade ties between Alabama and the Dominican Republican continue to solidify. In 2014, Alabama exports to the Caribbean nation approached $104 million, an increase of 130 percent from the figure five years earlier.
Hudson gave a presentation on USA to committee members of the United States' 100,000 Strong in the Americas program in the Dominican Republic. The program underscores the relationship between broader educational opportunity and greater regional prosperity.
The committee included representatives from universities, colleges and trade schools from the Dominican Republic, and Hudson said there is early interest in developing a bilateral exchange agreement with the Universidad Autónoma de Santo Domingo, the country's oldest public university.
The Dominican Republic has a robust scholarship program that annually sends thousands of students abroad to study. USA enrolls just a few Dominican Republic students each year, but the island's regional proximity offers opportunities for greater collaboration, Hudson said.
Daniel Ros, who works at his family's insurance brokerage business based in Santo Domingo, graduated from USA in 2010 with a bachelor's degree in business administration.
Ros said he was particularly impressed with the receptiveness of the faculty. USA has a student-faculty ratio of 20-1.
"The curriculum in the College of Business was very complete, enabling the students to have a great understanding of all areas of business, regardless of a students' specific major," Ros said. "I would recommend USA to anyone who's looking for a well-rounded bachelor's degree program."
Hudson met with Ros while in the Dominican Republic, and she noted that Ros is a good example of how education can be a valuable export – the relationships the University and the state of Alabama has with students continues after graduation.
"Our international students give us connections around the world," Hudson said. "Students today can lead to business connections tomorrow, and that's critical for our region and state in a global economy."
---