USA Announces Fanny and Bert Meisler Endowed Professorship in Jewish Studies; Meislers Providing $1 Million for Jewish Studies Program
---
Posted on June 5, 2015 by Bob Lowry
Bob Lowry
---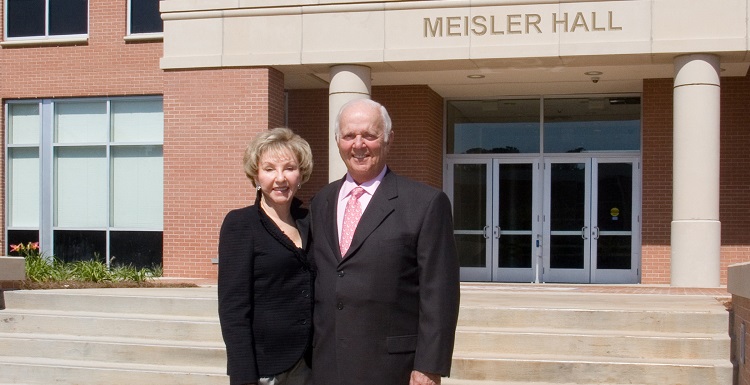 Fanny and Bert Meisler, longtime supporters of the University of South Alabama, announced a gift to establish an endowment to enhance Jewish Studies at USA.
---
Longtime University of South Alabama philanthropists Fanny and Bert Meisler of Mobile today announced a $1 million endowment to enhance Jewish Studies at USA. The Fanny and Bert Meisler Endowed Professorship in Jewish Studies will expand and deepen the University's relationship with Mobile's Jewish community, focusing on the history, religion and culture of the Jewish people.
"Bert and I have long thought about the need to further research and document the history of Jewish people in the Mobile region," said Fanny Meisler. "It's our hope and expectation that University students will take advantage of the opportunity to chronicle this history before it's gone."
"USA is a tremendous asset to Mobile and to the Gulf Coast region," said Bert Meisler. "We are indebted to the University of South Alabama for providing Fanny and me the means to make this happen."
"Fanny and Bert Meisler have supported the University with substantial charitable gifts including a leadership role in establishing the Ripps-Meisler Endowed Chair in the USA College of Medicine, providing necessary funding to name the student services center Meisler Hall, and giving extensive support to the University's athletic programs," said Dr. Joseph F. Busta Jr., USA vice president for development and alumni affairs.
The Fanny and Bert Meisler Endowed Professorship position extends a program the Meislers had already helped to establish. In August, the University will welcome a new faculty member to USA, Dr. David Meola, who currently is a visiting assistant professor of history at the University of the South, where he specializes in German and Jewish history from the Enlightenment through the nineteenth century with a focus on public expression and popular culture. Meola will serve USA as the Fanny and Bert Meisler Visiting Professor of Jewish Studies. The Meislers' latest gift will establish a permanent endowment to support a faculty position in Jewish Studies.
"The Jewish Studies Program at USA will bring greater awareness of the impact of the Jewish people on our community, state and region," said Dr. Clarence Mohr, professor and chair of history at USA. "With the generous support of Fanny and Bert Meisler we will explore in greater detail the important issues such as identity, genocide and cultural survival. USA's classes in Jewish history will be of interest to all those who seek a richer understanding of the Jewish experience."
---