USA Office of Multicultural Student Affairs Prepares Students for Success
---
Posted on June 9, 2015 by Joy Washington
Joy Washington
---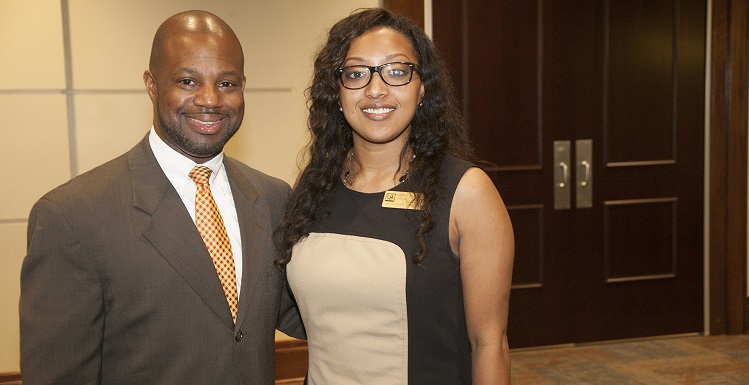 USA Office of Multicultural Student Affairs Director Dr. Carl Cunningham, left, and Coordinator Petré Freeman work to help students have a successful academic college experience at South Alabama.
---
The USA Office of Multicultural Student Affairs celebrated a successful program year with the growth of more than 50 new students.
OMSA member organizations include the African-American Student Association, National Pan-Hellenic Council, Abeneefoo Kuo Honor Society, Collegiate 100, Women of Excellence, Unity and Spectrum, NAACP, Latin American Student Association and Vietnamese Student Association.
"Our first focus is to help each student graduate from USA," said Dr. Carl Cunningham, director of the Office of Multicultural Student Affairs. "We are grateful that students have chosen South Alabama as a place to continue their educational journey, and we want them to know once they arrive that we are here to help them graduate."
OMSA supports the students by providing a robust programming schedule for each academic year. Petré Freeman, coordinator for OMSA, works with Cunningham to create informative and empowering programming for USA students.
"We are a very productive office, and we want our students to be the very best they can while at South Alabama," Freeman noted. "Overall, our goal is to support our students and help them have a rewarding college experience."
The academic/programming year ended with the annual awards banquet where all student organization presidents came together to thank the members for their hard work and dedication. Abeneefoo Kuo Honor Society members donated $1,000 to Feed the Children, a national organization.
OMSA was created in June 1998 to assist in the personal development and retention of minority students at USA.
OMSA serves to:
Provide programming for cultural awareness and communication among the University community;
Encourage students to participate in all aspects of campus life;
Provide leadership opportunities for aspiring student leaders; and
Assist to ease the transition into college.
For more information about OMSA and the programs it presents annually, visit http://www.southalabama.edu/departments/omsa/.
---