Distributed Control System Donated to College of Engineering
---
Posted on June 15, 2015 by Bob Lowry
Bob Lowry
---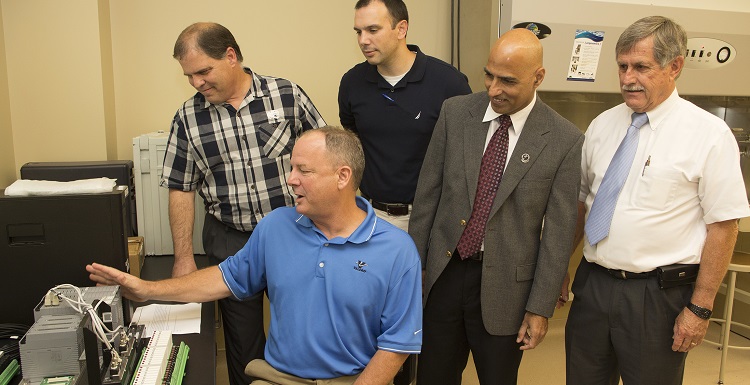 Mark Damiani, seated, with Valero Energy, discusses the new DCS his company donated to USA's College of Engineering. Standing from left are Jim Moore, ChBE Advisory Board; Kevin Jackson, Hargrove; Dr. Srinivas Palanki, professor and chair of chemical and biomolecular engineering; and College of Engineering Dean Dr. John Steadman.
---
Students and faculty at the University of South Alabama will enjoy a more meaningful, hands-on learning experience about manufacturing processes with the donation of a Yokogawa Distributed Control System to USA's College of Engineering. The DCS is a gift from the Valero Energy Corporation's Meraux Refinery in Meraux, La., and was announced June 11 at USA's Shelby Hall.
The Distributed Control System is used in the process industry to monitor and control complex manufacturing processes, according to Dr. Srinivas Palanki, professor and chair of chemical and biomolecular engineering at USA, ensuring that the product of the desired quality and quantity is being produced.
"Since this has become the industry standard for control and optimization of processes, students need to be trained on the use of this equipment before they go to industry," Palanki said. "The use of this equipment leads to safe operation of potentially hazardous processes and also leads to cost savings as well as increased profits."
Dr. John Steadman, dean of USA's College of Engineering, said the availability of a DCS to the college will also allow faculty members to test novel monitoring, optimization and control algorithms on a system already being used in industry. "This can result in further funding from industry as well as federal sources for systems engineering research," Steadman said.
"We are very appreciative of Valero for donating this equipment and of Hargrove for their willingness to donate their time to help us set up the DCS," Palanki said. "This clearly shows that these companies value USA's educational objectives and like the quality of our graduating students." The DCS, which is valued at more than $200,000, is expected to be operational during the upcoming fall semester.
"It's important for students to actually use what we use in the industry," said Mark Damiani, manager of control systems engineering at Valero. "Valero is very happy to contribute to their career preparation." Kevin Jackson, control/automation regional leader for Hargrove, added "the application of technology is exploding in this region, and we're glad to do all we can to help USA in this regard."
"The University of South Alabama College of Engineering is doing some wonderful things," said Jim Moore of USA's Chemical and Biomolecular Engineering Advisory Board and a USA alumnus. "The acquisition of the DCS is great news for the students."
Valero is the world's largest independent refiner, with 15 refineries stretching from California to Canada to the United Kingdom. Its refineries produce gasoline, diesel, jet fuel, asphalt, petrochemicals, lubricants and other refined products. Hargrove is an engineering, procurement, construction management and technical services company with several offices in the southeastern United States, including Mobile, its corporate headquarters.
---