Bro Code Program Honored with National Award
---
Posted on July 23, 2015 by Joy Washington
Joy Washington
---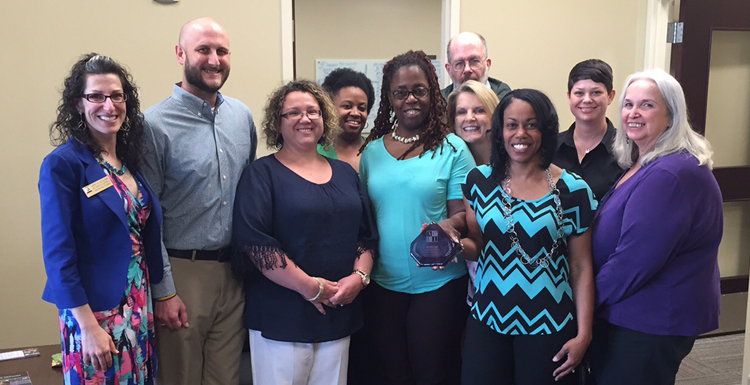 The following were actively involved in the USA Bro Code campaign, which won a national award from the Association of College Unions International. From left are Dr. Krista Harrell, associate dean of students and Title IX coordinator; James Contratto, associate director for student activities, University Programs; Leslie Weaver, counselor in Counseling and Testing Services; Kelsey Bryant, student; Katrina Kennedy, secretary, department of foreign languages and literatures in the College of Arts and Sciences; Howard Whitston, instructor, School of Computing; Dr. Carolyn Dolan, professor, community/mental health nursing, in the College of Nursing; FeAunte Preyear, health education and quality improvement coordinator, Student Health, Robbie Durr, area coordinator, department of housing and dining; and Maggie Fields, coordinator of Student Disability Services.
---
The University of South Alabama recently received the Collaborative Program of the Year award at The Association of College Unions International, ACUI, conference for the Bro Code program.
As a collaborative effort between 14 different USA organizations, the initiative brought together 175 students to empower men to strengthen their bystander intervention abilities. Students participated in a four-day training session, acted as peer-to-peer educators and facilitated small group sessions during the Bro Code program.
The Bro Code program was a huge collaborative effort between USA student groups, departments and community groups. The contributors include:
Lifelines Rape Crisis Center - Developed program curriculum and trained facilitators.
USA's Violence Prevention Alliance - Spearheaded the program, recruited facilitators, assisted with logistics, and helped secure sponsorships.
Student Center/University Program/Jaguar Productions - Served on planning committee, provided logistic support and financial backing, ordered food and T-shirts, made room reservations and set ups, advertised, and serve as facilitators.
Counseling & Testing Services - Served on planning committee, provided facilitators and managed logistics.
Housing & Residence Life - Assisted with the day of the event and provided facilitators.
Student Health Center - Connected with the Rape Crisis Center, planned logistics of the event, assisted with day of show execution.
Residence Hall Association, Sigma Chi Fraternity, Phi Kappa Sigma, Kappa Alpha Order, Alpha Tau Omega, Pi Kappa Alpha Fraternity and Pi Kappa Phi - Co-sponsored by providing financial support. In return they were listed on the T-shirt and advertising materials.
The ACUI Collaborative Program award was established to recognize outstanding achievement of programs that bring together two or more entities to achieve a common goal. This award is given to a program that is created and implemented by multiple organizations working in partnership.
Founded in 1914, ACUI serves those working in college unions and student activities on campuses worldwide. Its members include administrators, professional staff, student employees, student organization leaders, graduate students and companies.
For more information about the award or program, contact James Contratto, associate director of student activities in the Division of Student Affairs by phone at (251) 460-7144, or email at contratto@southalabama.edu.
The mission of USA's department of student activities is to connect students with organizations, services and programs that will enhance their interests and passions while complimenting academic development. Students are encouraged to have both individual and group experiences that foster interpersonal relationships, promote the application of practical and useful skills and enhance the academic learning environment. The staff value experiences that inspire leadership, cultivate diversity, encourage campus and community engagement and clarify individual values.
---