University of South Alabama Named One of America's Safest College Campuses
---
Posted on July 28, 2015 by Bob Lowry
Bob Lowry
---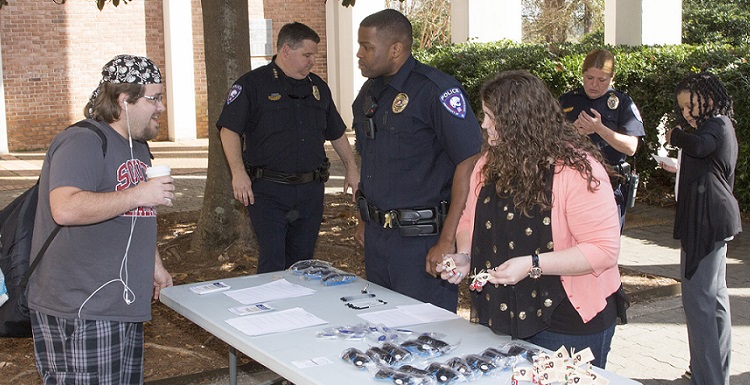 Coffee with a Cop is one of many USA police initiatives building stronger relationships within the University community. USA has been named one of America's Safest College Campuses by BestColleges.com.
---
BestColleges.com has named the University of South Alabama one of the nation's safest college campuses. The University has "succeeded in building a safe learning environment for your students and this does not go unnoticed," said Lucy Wallace, associate director of communications for BestColleges.com. USA was one of 50 universities recognized by BestColleges.com.
"The USA Police Department promotes the concept that campus safety is a collective enterprise; in that, it requires the involvement of all members of the campus community," said University Police Chief Zeke Aull. "As such, the department has offered interactive methods of communication such as text messaging and the LiveSafe mobile safety app. We engage in preemptive community education programs designed to enhance campus safety, such as active shooter training to faculty, staff and students, Check Your Ride for students driving home for breaks, as well as alcohol and sexual assault prevention programming.
"USAPD utilizes a proactive policing model of identifying potential problems and devising solutions. Consequently, the University currently has over 700 cameras and has spent half a million dollars on improving lighting during the last four years. We are honored to be on the list of safest schools but when you put all of these strategies together, I am not surprised. The credit for this recognition goes to our entire USA community."
The USA Police Department provides a full range of services and is on watch 24/7 every day of the year, regardless of when students are on campus. University police officers are sworn state law enforcement officers and are empowered by legislation to enforce all state and local laws. The police department employs 44 officers and 65 student auxiliaries who provide a full range of services to the University community including:
Visible and regular patrolling services
"Check Your Ride" for students driving home for holidays and breaks
Education on safe practices and tips for reducing risk
Emergency notification alert system
"Operation ID" to engrave and identify personal property
RAD (Rape Aggression Defense) classes offered in conjunction with the USA Department of Physical Education
Bystander intervention education offered in conjunction with the Division of Student Affairs
Active shooter training for First Year Experience classes
Active shooter and workplace violence orientation training for faculty and staff
Free "LiveSafe" crime prevention and awareness mobile app
Threat assessment program to identify and proactively deal with classroom disruptions and behavioral concerns
Key-card entry at all major buildings as well as video surveillance to help dissuade perpetrators
Drug and alcohol awareness programs for students
QUICK FACTS
Students, staff and faculty can request police services to be present at any special events they are hosting.
USAPD created a bicycle registration form where students can input information about their bike to help track it if stolen.
The University's annual crime and fire safety report can be downloaded directly from the departmental Web site.
---