Student Veteran Helps Others Seeking Higher Education
---
Posted on September 17, 2015 by Joy Washington
Joy Washington
---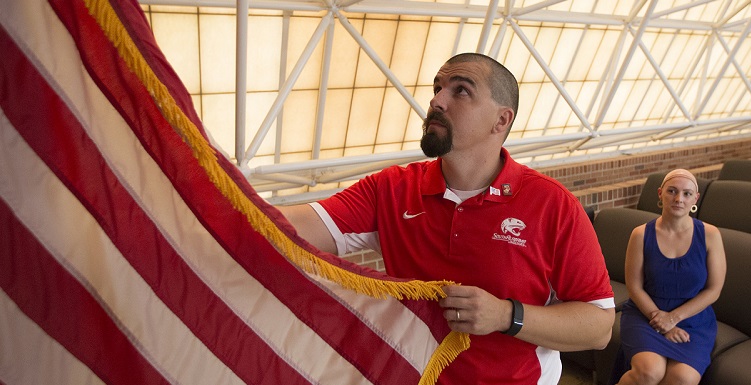 Kyle Parrish, a senior education major at South Alabama who served two tours of duty in Iraq, is determined to make a difference for other student veterans as president of the Student Veterans Association. He is grateful to his wife Anna-Lisa, seated, for supporting his endeavors.
---
Kyle Parrish, 31, president of the University of South Alabama's Student Veterans Association, knows firsthand the unique challenges veterans can face when transitioning to a university campus.
Parrish served two tours of duty in Iraq as a sergeant in the U.S. Marine Corps, and he is determined to make a difference for other veterans seeking higher education. As a senior at Mobile's McGill-Toolen High School in 2001, the tragedy of 9/11 touched his patriotic button and led him on a path to serve his country. Now that he has sacrificed and served, he's using his post 9/11 GI Bill to pay for his tuition and books. His goal is to earn a bachelor's degree in education when he graduates in May 2016. He plans to apply for graduate school, and his dream job upon completing that degree would be in education administration.
Many veterans like Parrish come home from war and decide to go to college. But some may struggle to transition from the battlefield to civilian life. Sometimes faculty and other students don't understand or even know that student veterans are dealing with combat trauma issues, he said.
"It's quite difficult for veterans to fit in sometimes and even connect with students, faculty and staff who are not veterans," he said. "As student veterans, we are on a completely different level of life based on our experiences on the battlefield. And we needed a place on campus that's a safe haven to study, fellowship, empower and support each other."
That safe haven now exists, and he's grateful to the more than 100 student veterans, faculty, staff and local veterans who came out recently to support the opening of the Student Veterans Resource Study Room located in the Academic Services Center on USA's main campus. He and the student veterans are also appreciative to the University for donating the space for the room, along with the $10,000 Home Depot grant received to purchase the furnishings, appliances, a television and other essentials.
Parrish is also working to build relationships with local veterans' organizations so that student veterans who suffer from post-traumatic stress due to combat trauma can have the specific help they need.
"With the rising veterans' suicide rate nationally," Parrish noted, "I want student veterans at South Alabama to know there are resources to help them thrive, live a healthy life and graduate with a degree."
Student veterans are supported by the USA Veterans Affairs Office and the University Veterans Affairs Committee. "We are honored to support Kyle and other student veterans," said Kelly Osterbind, University registrar, whose office oversees the Veterans Affairs Office at USA. "We know that they have some of the highest grade-point averages of all students, and they know how to balance family, work and study time well."
As the leader of the Student Veterans Association at USA, Parrish wants the 920 student veterans to benefit from what he calls the "Beacon of Hope." There's so much that the student veterans have to learn as they transition from the battlefield to the classroom, and Parrish knows that being connected and having a special place on campus just for student veterans will help them have a richer college experience.
Parrish is not only motivated by his passion for issues concerning his fellow student veterans, he's also inspired by the legacy of his uncle, John Counts, who was a member of the charter class of South Alabama. Counts received his bachelor's degree in business and management. Counts later became the first graduate of the University to become a member of the Board of Trustees in 1980. He served as vice chair of the executive committee until 1995. The John Counts Room in the Mitchell Center is named in his honor.
"I am proud of my uncle's accomplishments," Parrish expressed. "I wake up every day knowing that I am on a mission to share my gifts and talents."
Parrish is not only grateful to the support he's receiving at South Alabama; he is also thankful to have married the love of his life, Anna-Lisa. They have two young children, William, 6, and Kylie, 4.
"My family means the world to me," Parrish noted. "It wasn't by accident that I was stationed in California. It was meant for me to meet my wife and for us to have two beautiful children."
Parrish knows it's important to have a supportive family, and his wife says because of who Parrish is, it makes it easy for her to support and love him.
"I am so proud of his service to our country," said Parrish's wife. "I am also inspired by his hard work and dedication as a student at South Alabama. I know he's committed to serving the student veterans, and I am proud the University is providing a special place for them to call home."
---