USA Homecoming 2015: "Building Our Legacy"
---
Posted on September 22, 2015
Joy Washington
---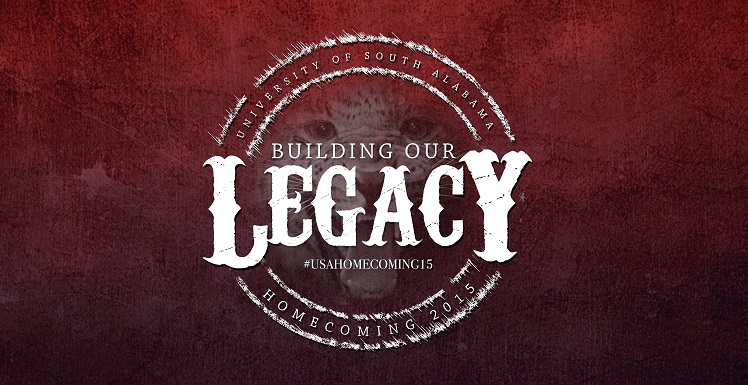 ---
This year's Homecoming theme, "Building Our Legacy," is being announced by the University of South Alabama students, faculty and staff who are serving on the Homecoming 2015 committee.
"The Homecoming theme was chosen because this is a really unique time to be a Jaguar," said Student Government Association President Ravi Rajendra. "Today, Jaguars have the chance to impact our school's history, and that's what this theme exemplifies."
Homecoming will be held the week of Nov. 2 and will culminate on Saturday, Nov. 7, as the South Alabama Jaguars football team takes on the University of Idaho Vandals. Everyone is encouraged to mark your calendars and start making plans to attend the annual Homecoming celebration. Game time will be announced later.
"Specific plans for Homecoming activities are being made," said Marie Fox, assistant director of Alumni Relations and Homecoming 2015 co-chair. "We are excited about this year's theme, and we look forward to our alumni, friends, students, faculty and staff coming out and enjoying the events."
The Homecoming committee will continue meeting and finalizing the details for the week of homecoming.
"We will have our traditional events as well as some new activities," said James Contratto, associate director for student activities and Homecoming 2015 co-chair. "As the details are finalized, information will be posted on our Homecoming 2015 homepage."
You can also checkout the countdown at http://www.southalabama.edu/ departments/publicrelations/ homecoming/index.html.
---