Theatre USA Presents "Boy Gets Girl"
---
Posted on September 25, 2015 by Alice Jackson
Alice Jackson
---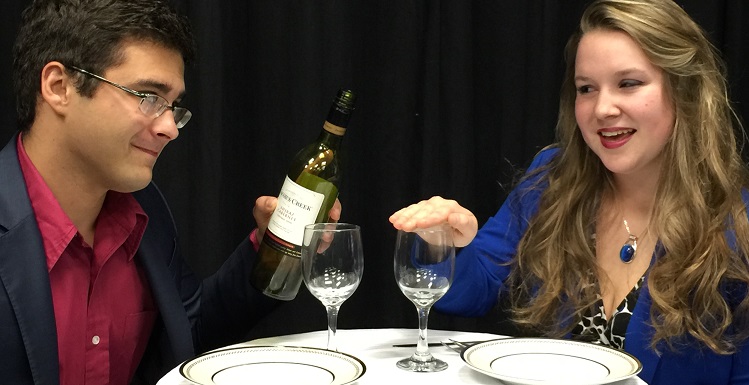 Theatre majors Thomas J. Deen, left, and Cassidy Dangler star in "Boy Gets Girl," a drama about dating and modern relationships.
---
Modern relationships and concerns about the issue of stalking will open Theatre USA's 2015-2016 season with the production of "Boy Gets Girl" at the Laidlaw Performing Arts Center.
Rebecca Gilman's drama focuses on Teresa's awkward blind date with Tony, the attractive friend of a friend. Afterward, she sees no reason to pursue a relationship with him, but Tony thinks otherwise. Soon, he is pursuing her, and the conflict escalates from there.
The cast features theatre majors Cassidy Dangler as Teresa and Thomas J. Dean as Tony, along with Aaron Esters, Blake Waters, Brianna Bond, Nicole Lusk and Colgan Meanor. Joe Fuselli, adjunct instructor, directs the production.
The production opens this evening, Friday, Sept. 25, at 7:30 and repeats at 7:30 p.m. on Saturday and at 2 p.m. on Sunday, as well as at 7:30 p.m. Thursday, Oct. 1, through Saturday, Oct. 3.
Immediately following the Friday, Oct. 2, performance, Theatre USA will join with members of the USA Violence Prevention Alliance for a special "talk back" session looking at issues raised by the play.
For more information about the production, or for ticket sales, call the box office at (251) 460-6306, or visit it in the Laidlaw lobby. The box office is open Monday through Friday, 9 a.m.-4:30 p.m., as well as one hour before each performance.
---