A Cashew is a Fruit, and other Plant Trivia
---
Posted on October 21, 2015 by Marketing and Communications
Marketing and Communications
---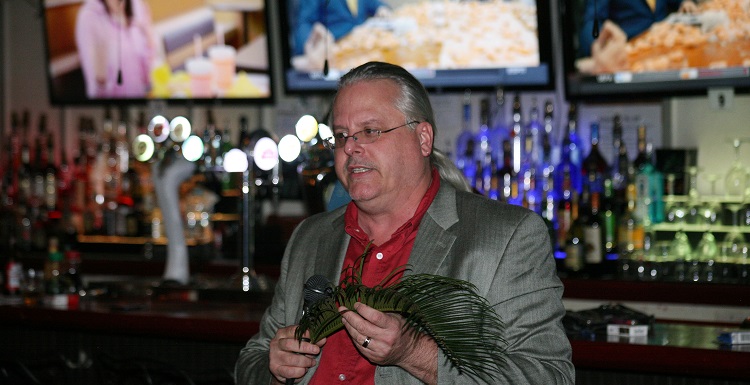 Dr. Brian Axsmith, a University of South Alabama professor of biology, speaks at his presentation, "It Ain't Easy Seeing Green: Preventing Plant Blindness," held Tuesday at the OK Bicycle Shop.
---
Spanish moss, the charmingly abundant accent piece adorning Mobile's storied live oaks, is actually neither.
The botanical revelation, delivered by a bespectacled gentleman with the gray ponytail and a microphone in his hand, raised more than a few eyebrows among the after-work crowd sipping beer and munching nachos Tuesday evening on the back patio of Mobile's OK Bicycle Shop.
Dr. Brian Axsmith, a University of South Alabama professor of biology, explained the Mobile mainstay is indigenous to the area – so not Spanish – and is actually a flowering plant closely related to the pineapple. And he was only getting started.
Consider, for instance, that Alabama's beloved state flower, the camellia, is not actually indigenous to the area and that a primary ingredient in toothpaste is an algae extract commonly found in everything from ice cream and firefighter foam to soy milk and vegetarian hot dogs.
Axsmith's audience was anyone who showed up, and his classroom was not on campus. It was in a downtown bar.
Intrigued yet?
While Axsmith's "It Ain't Easy Seeing Green: Preventing Plant Blindness" drew a direct crowd of just over a dozen people, audience participation grew – shall we say, organically – as the informal 45-minute discussion progressed. The lecture, which did not actually feel like a lecture at all, was second in a three-part fall Science Café series.
"We're trying to create a very comfortable atmosphere in which people can have open, inquisitive discussions about a variety of topics," said Barbara Filion, associate director of the USA Archaeology Museum.
Filion, who said the Mobile effort models the international Science Café movement, first launched the local program a few years ago. After a hiatus, she said, members of the community began asking for its return, and she was more than happy to oblige.
"Sometimes academic settings can be intimidating, and they can stifle true discussion, but this format allows us address a timely topic, get the conversation started with an expert and then see what happens," Filion said.
In turn, when the late evening sun gave way to decorative twinkle lights, patrons at nearby tables began chiming in when Axsmith asked questions in his one-man attempt at thwarting a general plant illiteracy plaguing mankind.
Cameron Hillsey, who works for a downtown law firm and was joining friends for the Bike Shop's Tuesday night trivia, couldn't resist jumping in from time to time when he thought he knew an answer to one of Axsmith's questions.
"It was kind of fun, and I learned a few things," Hillsey said, adding, "I did know a cashew is actually a fruit, but I had no idea it was closely related to poison ivy. So there's that."
Filion said organic participation such as Hillsey's is not only welcomed but encouraged.
"We partnered with the Bike Shop to host this on the same night they do trivia because we know that attracts a naturally curious crowd, and we're hoping it invites more voices into the conversation," she said.
Filion said the idea of the Science Café series is to engage the community while showcasing areas of expertise honed by members of the USA faculty. The first discussion, held in September, was dedicated to vaccine development and the origins of the "anti-vax" movement.
"I have a feeling the November café is going to draw a big crowd," she said, referencing the third and final installment slated for 6 p.m. Nov. 10, also at the Bike Shop.
Filion said that session, "Kids These Days: The Rise (and Fall?) of Narcissism in America's Youth," will be facilitated by Dr. Joshua Foster, an associate professor of behavior and brain sciences in USA's psychology department. The sessions typically include a 30- to 45-minute discussion followed by a brief, 10- to 15-minute question-and-answer period. A spring series will begin in February.
And whether Axsmith succeeded in his goal of boosting plant literacy among Tuesday's participants, the botanist said he is at least hopeful he helped those in attendance "walk away with nerd ammo."
---