JagTran Changing Routes; Student Parking Added
---
Posted on October 23, 2015 by Bob Lowry
Bob Lowry
---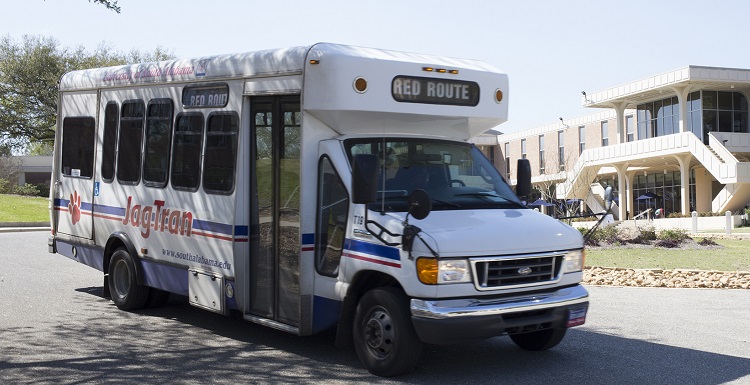 The Student Center will become a central transportation hub for JagTran buses under new routing changes.
---
If you've ever been late for a class and couldn't find a parking place, help is on the way. Beginning Monday, Nov. 2, JagTran will make significant changes to their Blue and Green routes. New pick-up and drop-off points will be added, more buses will serve The Grove, the bottleneck at USA South Drive at the traffic circle will be avoided, and the Student Center will become a central transportation hub with connections to other JagTran routes.
Also, more than 100 underutilized employee parking spaces have been changed to student parking, with many of those spaces conveniently located at key JagTran pick-up and drop-off locations. In addition, several changes have been made to student zone parking to encourage more usage of existing spaces in student lots. Here are the details on the zoned parking changes for students:
East Zone permits (Medical Sciences/Health Sciences/ILB) are now allowed to park in the North Zone. This is to encourage more students to take advantage of the approximately 150 spaces that are consistently open on the west end of the North Zone. However, North Zone is still prohibited from parking in East Zone during zone enforcement hours.
South Zone permits (Shelby Hall/MCOB/Laidlaw) are now allowed to park in the Gamma parking lot off South Drive and the traffic circle. The Gamma lot consistently has spaces available, even when other lots may be at capacity. At times, several hundred spaces are available.
Zone enforcement will change from 1:45 p.m. to 3:45 p.m. to encourage residential students already parked on campus from getting on the road, increasing traffic and parking congestion in several of the lots, especially the South Zone and the East Zone. Reducing the afternoon commute times will also increase the efficiency of JagTran. Warning citations will be issued for this violation after 1:45 p.m. for the remainder of the fall semester.
The changes are a result of an extended study by Facilities Management, and University Police and Parking Services of campus parking and JagTran ridership habits, with input from the Student Government Association. While the Blue and Green routes are changing soon, other routes will undergo equally significant changes in the spring semester. The University also has plans to add a JagTran Tracker app in the spring semester that will have real-time information on JagTran buses, so students will know when the next bus will arrive at their location.
"We want to make attending classes as convenient as possible, while maximizing our resources and minimizing the environmental impact of drivers waiting in traffic or searching for that perfect parking spot," said Dr. Michael Mitchell, vice president for student affairs and dean of students. "The feedback we've received from students is very encouraging, and we want to continue to hear from them as we modify JagTran service and student parking."
"The Student Government Association believes the modifications will provide a more efficient means for both commuter and residential students to get to class on time," said SGA President Ravi Rajendra. "Also, the route changes embrace the newly renovated Student Center as the true center of campus. We're also pleased that underutilized employee parking has been converted to student parking. SGA believes that creative and collaborative efforts like these will help alleviate the parking situation on campus. As always, we welcome student feedback on the improvements that are being rolled out."
For a more detailed look at the revised JagTran routes and student parking changes, please visit www.southalabama.edu/jagtran and click on JagTran/Parking Changes in the left navigation menu.
---