Homecoming Events Announced for Nov. 2-7
---
Posted on October 29, 2015 by Joy Washington
Joy Washington
---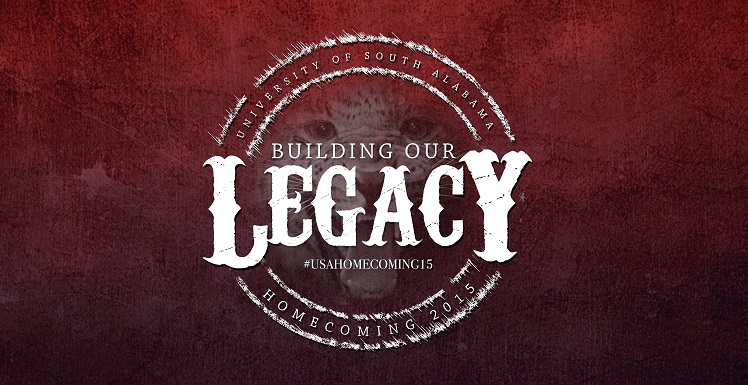 ---
Plans for the University of South Alabama Homecoming 2015 are complete, and the spotlight will be on students, alumni, football, marching band, fans and spirit during the week of Nov. 2-7. The theme, "Building our Legacy," will feature a host of activities including athletic and alumni events, a pep rally, parade, step show and the Fun Fest Carnival Night. Most events are open to the public, unless otherwise noted.
A "Fired Up" Homecoming Bonfire will kick off the week of events with a blast on Monday, Nov. 2, from 6-8 p.m. at the Intramural Fields. There will be music played by a DJ, free food and special appearances.
"Jaguars Got Talent" will be held Tuesday, Nov. 3, at 6 p.m. in the Mtchell Center Arena. The event is free and open to the public. Students can showcase their talents as a group, individual or organization, and the competition is open to all USA students.
Jaguar Productions is sponsoring the "Fun Fest Carnival Night" Thursday, Nov. 5, from 5-9 p.m. at the Student Center. The event will include food, games and entertainment. For more information, call Jaguar Productions at (251) 460-7144.
Other events will include a Homecoming Parade featuring the Jaguar Marching Band on Friday, Nov. 6, at 6 p.m. on USA South Drive. Members of the 1972 Jaguar baseball team, the first USA team to be ranked #1 in the country, will serve as grand marshals of the parade. That team was also USA's first to reach an NCAA regional tournament.
The USA Alumni Lawn Party will be held Friday, Nov. 6 at 4-6 p.m. on the lawn of Alumni Hall. This event is for alumni and their guests only.
Later that evening, after the parade, the Pep Rally begins at the steps of the Mitchell Center where the Jaguar Sculpture is located at 6:45 p.m. In addition, the USA National Pan-Hellenic Council, Inc. will sponsor the annual NPHC Step Show "Battle of the Greeks" at 8 p.m. at Blount High School. Doors open at 7:30 p.m. For ticket information, contact the Office of Multicultural Student Affairs at (251) 460-6895.
Homecoming Day will feature the South Alabama Jaguar football game against the Idaho Vandals on Saturday, Nov. 7 at 2 p.m. The game will be played at Ladd-Peebles Stadium with the gates opening at 8 a.m. The Pre-Game Tailgating will include the Spirit Stick competition. Tailgating and parking gates open at 8 am, stadium gates open at 12 noon. For ticket and game day information, visit usajaguars.com. If you are interested in JagWear and other campus needs, visit the USA Bookstore at southalabama.edu/bookstore.
For a complete list of Homecoming events, visit www.southalabama.edu/homecoming/2015/, or call the USA Student Government Association at (251) 460-7191.
---