USA Wins Women's Cross Country Title; Men Place Third
---
Posted on November 3, 2015 by Marketing and Communications
Marketing and Communications
---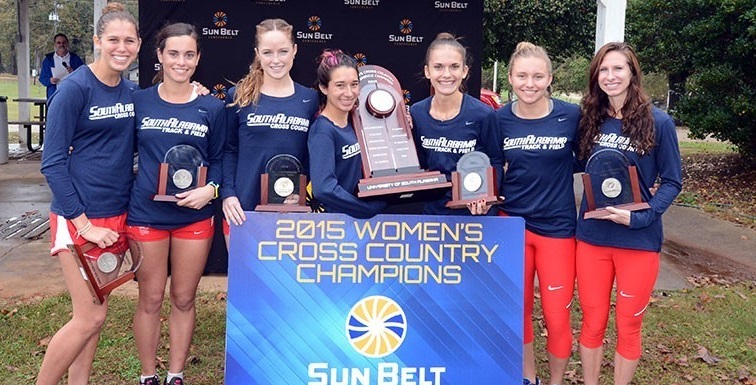 The University of South Alabama women's cross country team picked up the program's fourth Sun Belt title, with a total of 46 points. Members of the team, from left, are Alivia Bryars, Laura Labuschaigne, Nicole Durham, Ivy Chastain, Ahsley Heitling, Kailee Kiminski and Joanna McCoy.
---
HAMPTON, Ga. – With four runners in the top 10 individually and five among the top 20, the University of South Alabama women's cross country team earned its first Sun Belt Conference championship since 1993 on Sunday, while the men's squad had a trio of all-league performers in recording a third-place finish at the meet.
Joanna McCoy led the Jaguars — the fourth time in five outings she has accomplished the feat this fall — coming in fifth place in a field of 75 individuals at Nash Farm Battlefield Park, posting a time of 18:13.4 over the 5k course. She was followed immediately by teammates Laura Labuschaigne (18:13.6) and Ashley Heitling (18:18.4), with Nicole Durham finishing in 18:34.1 to come in 10th place.
Ivy Chastain was 18th overall with a 19:09.5 clocking, with Alivia Bryars (42nd, 20:09.6) and Kailee Kiminski (53rd, 20:52.0) rounding out the Jags' lineup.
USA posted a total of 46 points, 20 fewer than Appalachian State and 38 less than Texas-Arlington, to pick up the program's fourth Sun Belt title. McCoy received first-team all-conference accolades, Labuschaigne, Heitling and Durham were all second-team all-league honorees and head cross country coach David Barnett was named the Coach of the Year.
"I've always been confident in the women that we have and their ability," Barnett said. "To see them grind away, push and keep working over these last couple of years — even when they weren't getting the results they wanted — to get over the top and earn it is super exciting for them. It's a proud moment for me too."
Noora Wallenius of Little Rock was the women's individual champion with a time of 17:49.0, crossing the line two seconds in front of the Mountaineers' Tristin Van Ord and just under five seconds before Abbey Dixon of Arkansas State. UTA's Gabriela Alfonzo was fourth, only two-tenths of a second in front of McCoy.
"The game plan for the women was to put themselves at the front of the race and compete," explained Barnett. "We didn't come here to get second or third, we came here to put ourselves in a position to win. I thought if they could get ahead and put some doubt in the other women's minds, they would be in a position to take what they wanted. They went out aggressively, and worked and fought through the tough spots together. It really couldn't have gone better for us."
Christoph Graf and Patrick Rohr were first-team all-SBC in the men's 8k race after finishing third and fifth with times of 25:36.8 and 25:47.2, respectively. With a time of 26:04.1, Katleho Dyoyi came in ninth place and picked up second-team all-conference honors.
Nathan Riech, who was among USA's top four finishers at each of their four meets during the regular season, did not run in the championship due to an injury suffered during warm ups.
"Those three knew going into the race that we were down one of our top runners, they knew they had to have a big day for us to have a chance," observed Barnett. "And they absolutely delivered, I couldn't be more proud of the effort and grit the three showed; a lot was on their shoulders, and they responded really well."
Their efforts helped the Jaguars place third in the team standings with an 80 point total. Texas-Arlington won the championship with 52 points — the Mavericks' Eric Ojeda was the individual winner, posting a 25:17.8 clocking — while Appalachian State was second 14 points behind.
Daniel Carter was 24th out of 61 competitors in the men's race, finishing in 26:46.3, with Cameron Ellis (27:30.3) 39th and Michael Remich (28:16.6) 49th in the individual standings as well.
Alabama will play host to the NCAA South Region Championship on Friday, Nov. 13 in Tuscaloosa.
"The women's team is right where they want to be. We're just going to freshen up, stay healthy, do a couple of faster workouts and go out there and have fun," Barnett stated. "We've done well at the conference level, now it's time for the program to take the next step at the regional level, and I'm excited to see how they do at that meet. On the men's side, hopefully we'll get Nathan back and we can put ourselves in a position to have a great regional meet. The guys are hungry, they want to finish the season with a flourish.
"It will be good to go back to Alabama and a familiar course, it will be a lot of fun."
For more information about South Alabama athletics, check back with www.usajaguars.com, and follow the Jaguars at www.twitter.com/WeAreSouth_JAGS. Season tickets for all Jaguar athletic events can be purchased by calling (251) 461-1USA (1872).
---