Theatre USA Celebrates 50th Anniversary with Adaptation of Ibsen Classic
---
Posted on November 11, 2015
Alice Jackson
---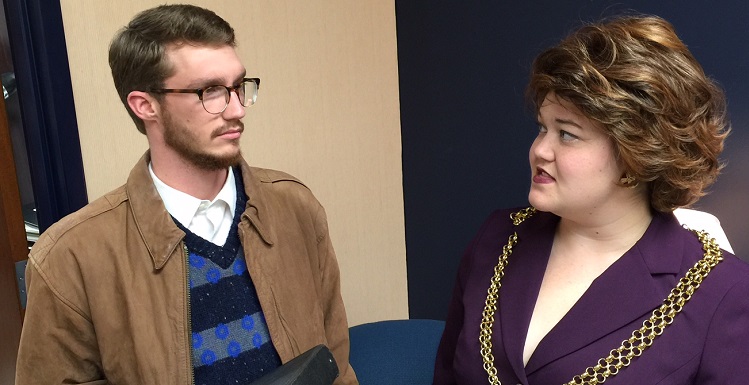 Dr. Stockmann, portrayed by Brandon Mallette, finds less than a warm welcome from the town's mayor, portrayed by Morgan Carithers, in the upcoming USA Theatre production of "Enemy of the People."
---
The second production of Theatre USA's 2015-2016 season and the highlight of its 50th anniversary will open at 7:30 p.m. on Friday, Nov. 13, in the Laidlaw Performing Arts Center with an adaptation of Henrik Ibsen's classic, "An Enemy of the People."
Evening productions repeat at 7:30 p.m. on Saturday, Nov. 14, and Nov. 20-21. The only matinee will begin at 2 p.m. on Sunday, Nov. 15.
Prior to the performance on Saturday, Nov. 14, Theatre USA will celebrate its 50th anniversary with a tour of the Laidlaw Performing Arts Center and a special pre-show reception. To make reservations for this event, or for more information, call (251) 460-6305.
Ibsen's tale follows the story of Dr. Thomas Stockmann and his discovery that the town's new spa is poisoned. His efforts to close it runs into skepticism and disbelief as the townspeople weigh safety versus potential profits.
Assistant Professor of Theatre Christopher F. Peck adapted and will direct the production. The cast features theatre majors Brandon Malletts as Stockmann as well as Tahj Vaughans, Morgan Carithers, Will Ballard, Jenna Bartoszewicz, Jay Glover, Colton Holcombe, Abigail St. John and Angila Wilkins.
For more information on the production, or for ticket sales, contact the Theatre USA box office at (251) 460-6306, or visit the box office, located in the Laidlaw lobby. The box office is open Monday through Friday, 9 a.m.-4:30 p.m., and one hour before each performance. The Laidlaw Performing Arts Center is located at 5751 USA Drive South.
---