Feel Like You're Going Around in Circles?
---
Posted on November 18, 2015
Bob Lowry
---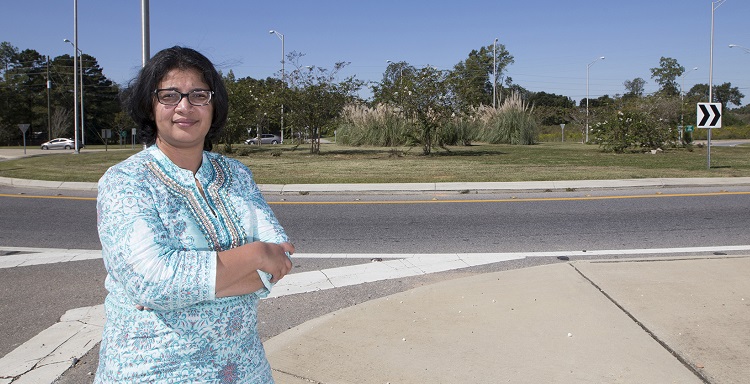 Dr. Samantha Islam, an associate engineering professor, has worked with the Alabama Department of Transportation to develop statewide operations guidelines on roundabouts. She estimates there are about a dozen under way.
---
Like them or not, roundabouts are coming to a troublesome intersection near you.
There's one in west Mobile at the intersection of Grelot Road, Dawes Road and Air Terminal Drive, and there are more under or planned for construction in and around Mobile; for example, one on McGregor Avenue near Dauphin Street.
Samantha Islam likes roundabouts. She's a civil engineering associate professor who specializes in transportation engineering, and she says they help.
"If you have congestion issues, such as those that existed on Dawes Road at Grelot, they're a very good technique to move traffic more quickly at a lower speed with less congestion and less delay," said Islam, who earned her doctorate in civil engineering at Purdue University. She also acknowledges that slowing down is something drivers don't necessarily like to do.
"One of the biggest adjustments for drivers is getting accustomed to yielding instead of stopping," she added. That means driving more slowly. "The roundabouts promote and provide continuous flow of traffic at lower speeds, and thereby significantly improve safety by reducing severity and frequency of overall crashes," she said.
Islam consulted with Mobile County engineers as they constructed the Dawes/Grelot/Air Terminal roundabout. She's also worked with the Alabama Department of Transportation to develop statewide operations guidelines on roundabouts. Islam estimates there are about a dozen roundabouts under way in the entire state, so her input will go a long way in creating the new generation of roundabouts in Alabama.
Next time you and your friends are talking about roundabouts, impress them with these facts:
According to Islam, states that are particularly active in the culture of roundabouts are Wisconsin, Indiana, Maryland and Kansas. Why them? "The state agencies are strong advocates and the universities in those states are leaders in research into roundabouts, and have been effective change agents in their development."

Carmel, Indiana, has more than 60 roundabouts. SIXTY! The city, which is a suburb of Indianapolis, proudly claims the title of "unofficial roundabout capital of the United States." They say where roundabouts have replaced signals or stop signs at intersections, accidents are down 40 percent, accidents with injuries are down 80 percent, and head-on collisions at those intersections have been virtually eliminated.
Not all roundabouts are alike. Some are called "mini-roundabouts" because they take up less space than standard roundabouts. There are several mini-roundabouts at the new McGowin Park shopping center on Government Boulevard, just east of I-65.
Mini-roundabouts are not the same thing as the traffic-calming devices seen throughout Mobile neighborhoods, although the mini-roundabouts can calm traffic. They are most effective where speeds are already low.
The traffic circle on the west side of campus is not a roundabout. It is a traffic circle. There are many differences, but in general, traffic circles serve to simply connect intersecting roads, not necessarily to slow vehicles down.
Roundabouts help the environment. There's less idling of cars at traffic lights or stop signs, so there's less gas being burned into the atmosphere and better fuel economy for drivers. Roundabouts often have green space, too.
"Roundabout" is a song released in 1972 by the British rock band Yes. It peaked at No. 13 on the U.S. Billboard Hot 100 singles chart. It has nothing to do with traffic roundabouts.
---