A Nursing Trip Outside the 'Comfort Zone'
---
Posted on December 4, 2015
Marketing and Communications
---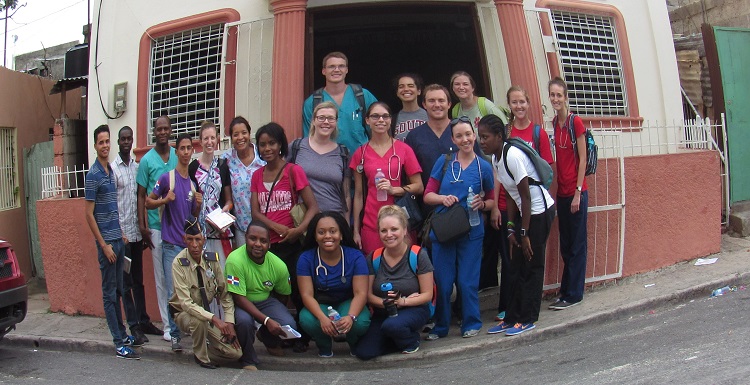 USA nursing students, Foundation for Peace staff and others gather outside a church used as a clinic site in the community of Los Mina.
---
An eight-day trip to the Dominican Republic this fall allowed several University of South Alabama nursing students the chance to improve their skills and explore their future career options, experiences one considered "life changing" and "eye opening."
A total of 11 people, including a graduate of the College of Nursing, provided basic health care services in the Caribbean nation from Oct. 18-25 working with Foundation for Peace. The trip was not simply a chance to visit another country, but instead was designed to enable students to see the differences and similarities of health care needs at home and abroad and to develop ways to communicate across language and cultural barriers in treating patients.
Foundation officials went to nearby communities and registered prospective patients and set up schedules prior to the group's arrival, said Misty Guy, USA instructor of nursing. During four days, the students saw a total of 830 patients in community clinics. The students assessed patients and provided basic first aid as well as provided health education and conducted a women's health care conference. The group also visited a special-needs orphanage, taking coloring books and other items contributed prior to the trip by fellow students and others.
Before they returned to the U.S., the students took time to tour the historic Colonial Zone and visit a local beach.
The immersion experience provided the opportunity for students to take a closer look at health care disparities on a global level.
"I chose the Dominican Republic because a lot of the health care issues they face are the same as those right here in our back yard, such as hypertension and other chronic diseases," Guy said. Yet, there are also differences. Some of the ailments they treated, such as intestinal worms, were due to the lack of clean water. Other illnesses resulted from poor nutrition and mosquito bites.
While the health care system in the Dominican Republic is among the best in the region, Guy said, there are still shortfalls and gaps that need to be filled. Guy said there is a nursing shortage in the Dominican Republic, where it is not uncommon to have a nurse caring for 10-12 patients at one time, twice as many as in the United States. During a tour of a local hospital, they learned that there is a shortage when it comes to available treatment, while there is no lack of demand.
Guy recalled one patient who came to the clinic appearing "very sickly." After the student nurses assessed her, they called over the physician who determined "that she had all the signs of advanced lymphoma."
"We knew when she walked out that day, she likely would not receive the treatment she needed," Guy said. "That was difficult to witness."
Later on the group was invited to a church service in which the residents expressed appreciation for the nursing students' visit. During the service, two of her students volunteered to sing and everyone was on their feet clapping.
"That was pretty remarkable," Guy said. "The people in all of the communities continually expressed their gratitude to us for traveling so far to give what everyone deserves – basic health care. What the Dominican people gave to us was immeasurable. We are more appreciative of the basic things, like clean water. For many of us, it gave us perhaps a greater sense of purpose."
Guy said support for the Dominican Republic trip extended beyond the delegation of nurses. She said support and donations came from other nursing students, including the Sigma Theta Tau honor society, and USA's foreign languages and literature department.
Tatiana Giordano, 29, an accelerated nursing student from Miami, said the trip helped her determine if she should make international nursing a career focus.
"I loved it," Giordano said, adding that her parents are natives of Uruguay, and she speaks Spanish. She was able to observe how family dynamics affected health care and the similarities in which patients diagnosed with hypertension or diabetes sometimes had not properly managed their diseases by not taking their medication as prescribed. The difficult part was working with children who suffered from parasites and fungal infections not often seen in the United States. "Seeing a kid going through those kinds of things is kind of rough," Giordano said.
Overall she rated the experience as "life changing and eye opening. It's a good opportunity to spur you out of your comfort zone."
Zane Cooley, 23, a senior from Lucedale, Miss., said that he had enjoyed previous mission trips and wanted to try a medical trip. He said he hopes he gets a chance to go back in the spring. Cooley, who has worked in a pediatric rotation at USA Children's & Women's Hospital, said that the students were able to sharpen their patient assessment skills. He also heard a heart murmur in a child for the first time. "I would recommend (the trip) to anybody. We are the front line in seeing" and treating patients.
Guy said she was pleased with the students' work and their willingness to serve. "Our students were wonderful. I couldn't be more proud in the way they handled everything."
---