Jaguars Excel with 2015 United Way Campaign
---
Posted on December 4, 2015
Alice Jackson
---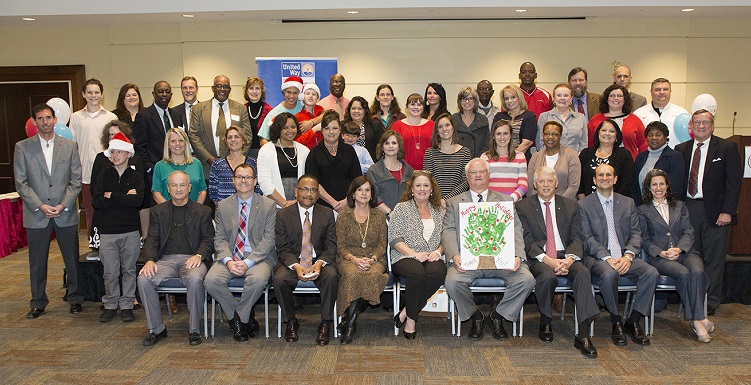 University of South Alabama employee volunteers celebrated a successful 2015 campaign for the United Way of Southwest Alabama during a reception held Wednesday, Dec. 2. The campaign raised a total of $261,201 for the nonprofit charitable organization.
---
The University of South Alabama's dedication to serving the Mobile community was on display recently with the announcement of the University's annual giving to the United Way of Southwest Alabama. A total of 2,477 employees and retirees of the University contributed $261,201 to the 2015 USA Employee Campaign for the nonprofit charitable organization.
The University had more Leadership Donors, who gave $500 or more, than any other participating company in the southwest Alabama area. Fifty-two members of the Women's Initiative pledged $1,000 or more, and University retirees raised $12,796, an 88 percent increase over the 2014 campaign. Steve and Carol Kittrell directed the retirees' campaign, and Becky Tate and Jean Tucker were in charge of the Women's Initiative.
During the campaign, 17 speakers from United Way agencies spoke at various USA events and rallies, sharing personal stories about how the agency has helped them to overcome adversity through a variety of programs.
Campaign co-chairs Harvey Ikner, chief of practice operations, USA Health Services Foundation, and Mike Haskins, executive director of marketing and communications, announced the totals during a wrap-up reception held Wednesday, Dec. 2, at the Student Center for employees who worked across the main campus and throughout the USA Health System to encourage employee participation.
Each University volunteer received a thank you card from Mobile Arc, an advocacy and service agency for people with developmental disabilities.
To close the program, volunteers were entertained with "Jingle Bells," from students of Woody's Song School, which helps children ages 5-12 on the autism spectrum increase their language, socialization and cognitive skills while decreasing behaviors that interfere with learning.
---