USA Engineering Honor Society Named Nation's Best
---
Posted on December 7, 2015
Bob Lowry
---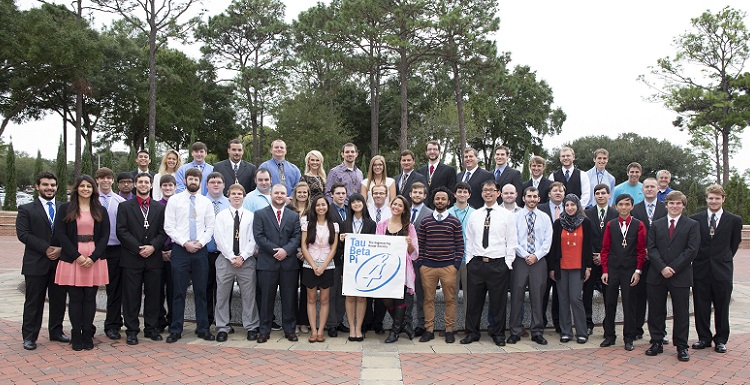 USA's chapter of the national engineering honor society Tau Beta Pi has been recognized as the best chapter in the country. Pictured are new students initiated this fall plus some of the current members, which include 70 undergraduate and 19 graduate students.
---
The University of South Alabama chapter of Tau Beta Pi, the national engineering honor society, has been recognized by the organization as the number one chapter in the country for the 2014-2015 academic year. The USA chapter is the first chapter in state history to receive this award.
The University's Tau Beta Pi chapter is particularly active in community service, participating in numerous K-12 projects such as the Jubilee Best Robotics and Engaging Youth through Engineering programs, and as tutors at Dunbar Creative and Performing Arts Magnet School. In Mobile's business community, Tau Beta Pi projects included a resume workshop with company representatives from Airbus, Austal USA, Hargrove Engineers + Constructors, Prism Systems, Southern Company and Thompson Engineering.
"We are immensely proud of USA's chapter of Tau Beta Pi for receiving the award as the best chapter in the nation," said Dr. John Steadman, dean of the College of Engineering. "This is the first time any engineering college in Alabama has received this recognition and it reflects outstanding leadership by our engineering students. They have proven themselves to be the 'best of the best.'"
Officers include President Bradley Harris, a chemical engineering major from Mobile; Vice President Caden Moore, a mechanical engineering major from Slidell, La.; Corresponding Secretary Robert Mines, a chemical engineering major from Pensacola, Fla.; Recording Secretary Ben Burleson, a chemical engineering major from Satsuma; and Treasurer Tyler Ready, an electrical engineering major from St. Stephens.
Earlier this year, nine Tau Beta Pi members were awarded national scholarships for their senior year at South Alabama. No other university in Alabama had more than two recipients, and the USA contingent was the second-largest university representation in the country.
---